2008 World Championships for Young Dressage Horses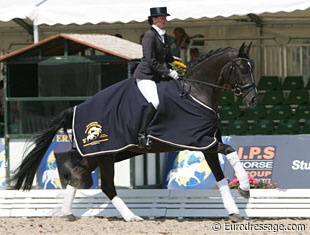 German Nadine Plaster and her Oldenburg bred gelding Desperado OLD have won the 5-year old qualifier for the Finals at the 2008 World Championships for Young Dressage Horses in Verden, Germany, July 31, 2008. He won the qualification class leading a field of 42 competitors in total. Helen Langehanenberg and Silberaster landed the runner up position.
Plaster rode an extremely convincing test aboard her dark bay gelding by Dressage Royal x Rouletto. Although Desperado paddles slightly with his front legs, he was light, elegant, and correct throughout the test. With soft hands, Plaster controlled her horse in all movements and gaits. Desperado moved with much knee action, engaged from behind in a consistent tempo. The extended walk was ground covering and relaxed, while the canter looked controlled with much self carriage. Purchased by Plaster and her partner Simon Kohlenbrenner at the Vechta Elite Auction for 210,000 euro, Desperado is a compact horse that could have a bit more length in the frame and more flexion in the hocks, but he is an outstanding mover well trained by Plaster. They scored 8.8 for trot, 8.6 for walk, 8.8 for canter, 8.6 for submission and 9.0 for general impression: overall 8.76.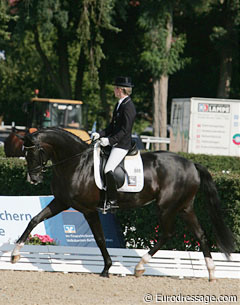 The runner up of the class was another Oldenburg bred horse, Silberaster OLD (by Sandro Hit x Canaster). Owned by Ludger Buhrmann and ridden by Helen Langehanenberg, this black long legged mare impressed with her large frame and off the ground, elastic movements. She maintained good cadence and balance in the bends in trot and was scopy in canter. The extended trot could have showed more stretching of the legs, but the extended walk was big and relaxed. Silberaster could have been responded fresher to the leg as Langehanenberg constantly had to spur her forwards. Silberaster's mouth was also ocassionally opened. They scored 8.3 for trot, 9.0 for walk, 8.0 for canter, 8.5 for submission and 8.8 for general impression. Total score 8.52.
Two combinations slotted in third position: The Swedish Malin Rinné on Scharmeur and German Ulf Möller on Donna Weltina. Rinné and Scharmeur were a highly anticipated pair, having won all the Swedish young horse selection trials, and the dark bay stallion's qualities also impressed internationally.
The Swedish bred stallion by Schwadroneur x Napoleon showed outstanding cadence in trot and was highly expressive in this gait. In the extended walk, he made large steps even though the horse stands quite straight on his front leg hooves and can not move truly freely from the shoulder. The canter was well jumped and in balance. The contact with the bit was a small issue in Malin's ride. The horse constantly showed his tongue. It was not sticking out of his mouth as an act of resistance, but he was showing it between his lips. The horse also did not stretch his neck in trot when he was giving the reins in posting trot. The judges awarded the ride with 8.8 for trot, 8.5 for walk, 8.6 for canter, 7.8 for submission and 8.8 for general impression. Total 8.50.
Dr. Ulf Möller was nominated as a reserve combination by the German selection committee but was invited to compete at the show when Sissy Max-Theurer withdrew her German horse Santorin MT from competition as she chose to judge in Verden over having her own horse in the show. So Möller filled up the empty spot.... with success. Aboard the dark bay Hanoverian mare Donna Weltina (by Don Frederico x Weltruhm), the PSI sales manager showed lovely things. The mare moved with a steady tempo and impulsion through the trot tour, showing lovely, powerful extensions and nice flexion in the corners and voltes.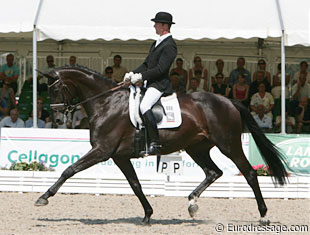 The trot was extremely smooth, just as the canter. Donna Weltina did spook in the corner at H backing up all the way to C, right before the medium walk over the diagonal, but this moment of stress quickly vaporized in the heat (30°C all day). She strode with confidence through the medium and extended walk. In canter, the mare covered much ground but could lower the croupe more to jump the canter more uphill. One point of comment could be her particular hind leg usage. Donna Weltina picks up her left hind leg more powerfully then her right, but does this consistently so one cannot speak of her being unlevel. It is an unusual sight and the judges did not see any reason to address this peculiarity. They scored her 8.8 for trot, 8.1 for walk, 8.8 for canter, 8.0 for submission and 8.8 for general impression.
Though strange judging yearly is usually a point of critique at the international championships, this year's panel for the 5-year old qualifier did an outstanding job. Judges Enzo Truppa, Jennie Loriston-Clarke, Patrick Collard and Peter Holler ranked most combinations correctly according to their performance and their scoring left little room for discussion. Here and there there were a few instances where some scores were generally given, but it did not upset the general standing.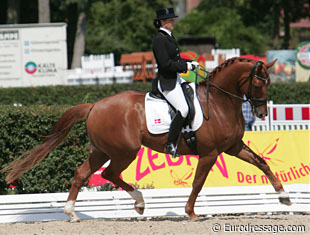 A very generously scored combination, for instance, was Danish Sabine Petersen on Atterupgaards Cassidy. Cassidy is a Danish warmblood by Caprimond x Donnerhall and is a gorgeous, smallish looking horse. He started out his test with little expression, but grew in radiance during the ride. His trot became more lightfooted after a while but the chestnut was spooky at the judges' box. The extended walk was good, the canter work could have had more ground cover and bounce. The hind legs were active, but they were making short strides. Petersen was constantly making small corrections in the mouth and when the value of the contact is checked in the test --in the posting trot when the rider has to lengthen the reins and the horse stretch forwards into the bit -- Cassidy kept his neck rolled up. The judges gave Petersen and Cassidy 8.8 for trot, 8.6 for walk, 8.0 for canter, 7.9 for submission and 8.7 for general impression. The overall score was 8.4 which is quite high for what they showed today. The potential is there though, so they can look forward to improving their individual finals' ride. 
Text and Photos copyrighted Astrid Appels/Eurodressage - No reproduction allowed without permission