2008 World Championships for Young Dressage Horses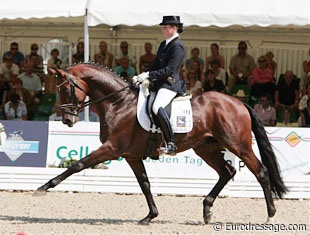 Finishing sixth in the 5-year old qualifier for the finals was the Trakehner stallion Imperio (by Connery x Balfour xx) under Anna Sophie Fiebelkorn. Aptly presented by Fiebelkorn, a professional dressage trainer, Imperio excelled in his elasticity and "schwung".
In trot, Imperio worked with the rider and positively executed the movements, but engagement-wise, he could move the hind legs more under the body. Also in canter, the horse could lower its croupe more to jump more uphill. They scored 8.36 overall and was the only pair to receive a 9 (9.2) for trot.
During the award ceremony, Wells Fargo (by Welser x Fabriano) refused to go in the ring, but his show performance was very satisfying. The massive chestnut Hanoverian has a powerful trot, but there were several cosmetic errors in the test. Rider Kathrin Meyer zu Strohen was visibly bending him to the right and in the trot extensions, the steps were irregularly ridden with uneven steps as the rider enforced her aids on the diagonal. The rein back was mediocre and the walk could have showed more overtrack, but at the end of the ride, Wells Fargo did stretch nicely into the contact. A quality horse in development. They scored 8.32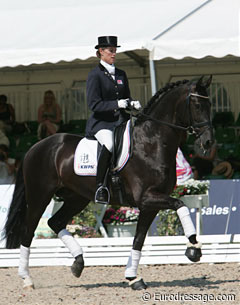 The best scoring Dutch combination was Madeleine Witte-Vrees on the KWPN licensed stallion Wynton (by Jazz x Matador II). Almost all KWPN horses entered in Verden have Jazz blood and it's unbelievable to see such a uniform collection of horses compete. Most of them have the same neck set, the straight should, the angulated hind legs and are sensitive to ride. Wynton moves with much knee action, maybe even too much, but was always nicely on the vertical or even above it, a little bit. In trot, the tempo and the engagement were good, but in the extensions, Wynton pulls his hocks up high instead of really stepping under and moving over the back. Also in canter, the horse shows great activity of the legs, but he could use his back more to get more swing in his body and lengthening in the frame. They scored 8.2 and got a generous 8.5 for the walk which should have showed more freedom in the shoulder.
Last week Dutch pony chef d'equipe Christa Laarakkers was coaching her pony team to a silver medal at the 2008 European Pony Championships. This week, she was riding Wolly Ann, a Stravinsky xx x Ulster Dutch bred mare, to an 8th place with an 8.2. score. Wolly Ann looks very plain conformation-wise with her sloping croupe in the topline and lacked bending in the frame in the corners and voltes, but she showed three useful basic gaits which are easy to train and develop. By a professional, this horse can be trained into a nice FEI horse.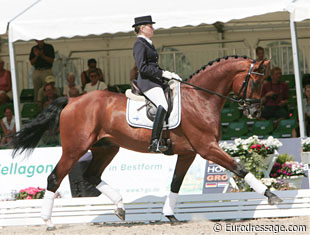 Wow!! What has happened to dressage in Finland?? All of a sudden we have two Finnish combinations in the top 11 of the 2008 World Young Horse Championships! Mikaela Soratie was the first rider to go of the day and immediately scored an impressive 8.18 with Royale de Topaz, a Finnish bred Royal Dance x Chablis stallion. Royale has a gorgeous head, neck and front, but his top line is not smooth and the back is still quite weak. The horse moved with much elasticity and the hind leg tracked up quite well, both in trot and canter. The connection with the bit could have been steadier to create a more harmonious overall image of rider and horse.
Finnish Stella Hagelstam slotted in 11th place ( 8.12 points) with the Oldenburg licensed stallion Fernet (by Furst Heinrich x Pik Labionics). If there is one surprise horse at the show, it must have been this black stallion. He almost has a Friesian look to his uphill self carriage. He moved with good engagement and bounce in trot and canter. In walk, he had three hoves overtrack but the 4-beat rhythm could have been clearer. An unscripted flying change in the counter canter pushed the score for submissiveness down to 7.5. The stallion did score 8.9 for trot and 8.8. for canter.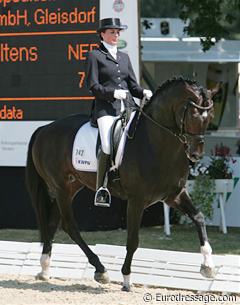 Emmelie Scholtens brought Westenwind  and Westpoint. The Jazz x Michelangelo offspring Westpoint was her first choice and hope for a ticket to the individual finals, but she actually qualified with Westenwind (by Flemmingh x Contango)
Westpoint is another typical Jazz, hot to trot.. This long legged black stallion has a lovely natural uphill self carriage, but there was much tension in the ride which resulted in him being tight in the neck and him preventing to use his back. He scored 7.16 and finished 36th. Westenwind on the other hand had a much nicer position of his head, at the vertical and even with the nose a bit in front, and looked more at ease. In the extended canter he did try to kick to the spur (Scholtens could work on her seat and turn her toes inwards instead of riding with Charlie Chaplin legs) and the extended walk did not have enough overstep. Westenwind scored 8.06 and finished 12th.
Our two American representatives were Katie Robicheaux on Williams and Jennifer Hoffmann on Rubinio. Williams scored 7.24, Rubinio 7.20.
The best Belgian performer was Bjorn Vileyn on his own bred Belgian warmblood Delano H (by Munchhausen x Wendekreis). Delano is quite a chunky gelding and looks a bit normal at first impression, but the bay gelding had such trainable gaits. His three basic movements are not spectacular, but they are not plain either. Furthermore, Vileyn was one of the few riders to have such an optimal, soft, steady contact with the bit. His horse was foaming and accepting the bit. We love to see that! Vileyn scored 7.52 and placed 24th.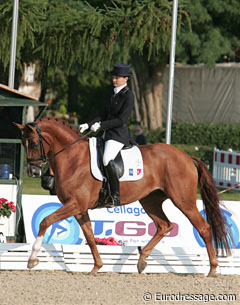 Last year, French Jessica Michel won bronze at the World Championships with Noble Dream and also rode a second horse (Riwera) in competition. She's trying the same formula this year. Noble Dream in the 6-year old division and Dame de Hus in the 5-year old class. The chestnut Hanoverian mare by Don Frederico x Castro is a very elegant, lightfooted mover with tons of potential. She appeared light in the hand but there was no honest contact with the bit. The mare occasionally threw up her head to avoid pressure from the bit. Michel seemed afraid to ride a real extended trot and canter in order not to get any contact issues in her test. She scored 7.4 overall.
This must have been a first.. an Israelian rider at the World Young Horse Championships. Raz Nitzani presented the bay NRPS mare Wonderella by Labo x Rubiquil. The horse looks old fashioned in type but has well cadenced movements with nice shoulder freedom. The canter could have been more over the back. It was a pity that the rider was leaning backwards so much and hanging into the horse's mouth. The total image could have been much lighter and pleasant if she sat straight. They scored 7.14 and finished 37th.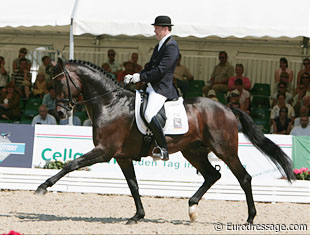 The pressure of the show got to them. Rider Oliver Oelrich pushed the Westfalian reserve licensing champion Rock Forever (by Rockwell) too far and the horse exploded several times in his test. What seemed like major spook blow outs were also enforced by Oelrich's strong squeezing of his legs. Rock Forever is a very talented dressage horse and he'll get his chance to earn a ticket for the finals by placing in the top three of the consolation finals on Friday.
Text and Photos copyrighted Astrid Appels/Eurodressage - No reproduction allowed without permission