2008 Olympic Games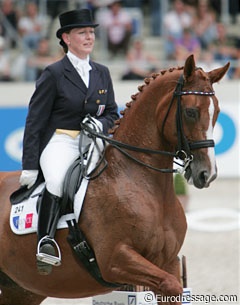 Karen Tebar and her Hanoverian mare Falada will not be representing France at the 2008 Olympic Games in Hong Kong. Tebar decided to withdraw Falada from the team as the mare became unlevel during quarantaine in Aachen, Germany.
During an internal team vet check on Thursday July 24, 2008, the 17-year old Falada turned up slightly lame. Tebar was granted 24-hours decision time and decided to withdraw from the team.
"The risk is simply too great," Tebar commented. "The vet told me that the lameness could be over at the beginning of Olympic Dressage in Hong Kong, but I don't want to travel to the Games with a horse that isn't fit. A rider doesn't do that. Of course I'm very disappointed as the preparations for the Games went really well, but the welfare of my horse is always a priority."
Tebar will be replaced by Marc Boblet on Whitni Star. He's joining Julia Chevanne on Calimucho and Hubert Perring on Diabolo St Maurice on the French Olympic team.
Photos copyrighted: Astrid Appels/Eurodressage
Back to the 2008 Olympic index