2008 European Junior and Young Riders Championships

German Sanneke Rothenberger won her third gold medal of the week at the 2008 European Junior Riders Championships in Azeitao, Portugal, July 20, 2008. Besides team gold and individual test gold, Sanneke also took possession of the Kur gold medal by winning the freestyle to music with high notes: 77,950%
"It was a fantastic show," Rothenberger commented afterwards. "Everything was so well organized, the stabling, the arena, everything. I had an amazing time and it was a great opportunity for me to win three medals with the new FEI medal system."
Thea Felicitas Muller and her blind Hanoverian Highway (by Hohenstein x Weltmeyer) made a power move and captured the silver medal place position with a strong score of 76,300%. The Muller-Highway story is truly an amazing one. Purchased in 2005, Highway became the replacement for Muller's pony as Thea Felicitas had grown too tall to ride ponies.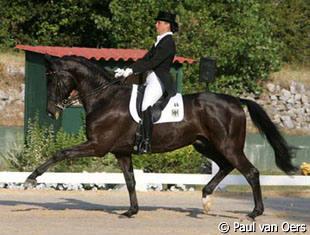 In the summer of 2006 they returned from vacation to find Highway in his stabling standing like a statue and staring at them with his eyes open. He was transported to an equine clinic where they diagnosed him with atrophy of the retina. The horse was slowly turning totally blind. Though shocked by the diagnosis, Müller did not give up on her horse and learned him special commands to rely on her as his pair of eyes. She continued building trust with the horse and was able to ride him first in the indoor and later on hacking him in the woods. Their dressage career also progressed and the pair became the shooting stars of Germany, winning the 2008 Preis der Besten, the 2008 CDI-JR Bonn and now the silver medal at the 2008 European Junior Riders Championships.
Dutch Michelle van Lanen and the 18-year old Dutch warmblood stallion Incredible (by Voltaire) conquered the bronze medal with her 74,800% earning kur to music. She surpassed her team mate, individual test bronze medallist Angela Krooswijk on Roman Nature.
Van Lanen was in third position and only the last rider to go, Louisa Luttgen and Dreamy (by Donnerhall), could kick them from their medal position. Luttgen had won team gold and individual test silver the day before and was the second strongest rider throughout the show, but in the kur nerves got to her and she started to make mistakes by the end of the right. She dropped from yesterday's silver medal winning position to an "empty handed" fifth place with 72,950.
"I was shaking all over, I couldn't believe it," said Michelle van Lanen when she realised she had won the bronze medal. In 2000 and 2001, van Lanen's mount Incredible became the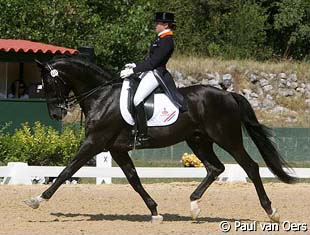 FEI technical delegate Mariette Withages was extremely pleased with the level of competition in the junior riders division. "Especially the juniors were of a very high level. The quality of the horses, their way of preparing and riding was top class. This is all proves that there is good basis in the development of dressage amongst youth riders."
Photos copyrighted: Paul van Oers/Equestrian-database.com
Back to the 2008 EJYRC index