2008 European Junior and Young Riders Championships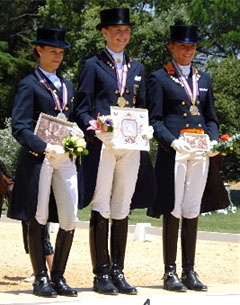 [Eurodressage Editor's Note: I always forget that the stupid three medal system exists until the European Championships come round the corner again in the summer. In a moment of mental dehydration, the FEI decided that a medal
should by won in each class of a Championship (team test, individual test, kur test) which is a mockery for the whole concept of a "championship" where there no longer is an overall, individual champion. The best ride of the day wins a medal, no longer the best rider throughout a championship. Each year, I get incredibly annoyed by this ridiculous system, but so be it.. here is the story.]
Sanneke Rothenberger won the individual gold medal for winning the individual junior a riders test at the 2008 European Junior and Young Riders Championships in Azeitao, Portugal, July 19, 2008.
Sanneke Rothenberger is the daughter of the dressage couple Sven Rothenberger (German native, Dutch passport) and Gonnelien Gordijn-Rothenberger (Dutch) and has dual citizenship. When she started her pony career, she chose to ride for Germany because the training system and pony programmes are far more developed in Germany than in The Netherlands. She is sticking to riding for Germany now that she made the switch to junior riders level this year.
Aboard the Bavarian bred Paso Doble (by Don Primero x Pik Boy), Rothenberger scored 74,850 placing first with four judges. One judge, Maribel Alonso, preferred to see the second placed Louisa Luttgen win. Luttgen saddled Dreamy and steered the sensitive mare to a 74,300% score and the silver medal.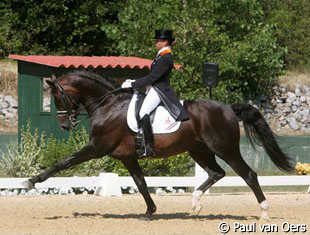 The bronze medal went to the Dutch Angela Krooswijk aboard the licensed stallion Roman Nature (by Rohdiamant x Ehrentuch). Trained to FEI level by owner Johann Hinnemann and Marlies van Baalen, Roman Nature became Krooswijk's junior rider ride this year and is coached by Coby van Baalen. The pair received 72,350% from the judges.
"Angela rode all she could and didn't drop any points. We're all very proud of her," trainer Coby van Baalen said.
The unfortunate, "medal-less" fourth place went to Thea Felicitas Muller on her blind black Hanoverian Highway (by Hohenstein). She recovered well from the scratch score position in the team test to third best German with a score of 72,050%
The 2008 Dutch Junior Riders Champion, Marjolein Cho Chia Yuen, who was the best Dutch in the team test, was now the fourth rider with several 'expensive' mistakes in her ride. As only three riders of one nation can qualify for the kur, Cho will be rooting for her team mates as part of the audience.
The highest ranked non German/Dutch combination was home favourite Mafalda Galiza Mendes aboard D'Artagnan. She scored a strong 69,650% and finished 8th.
Photos copyrighted: Paul van Oers/Equestrian-database.com
Back to the 2008 ECJYR Index