2008 European Junior and Young Riders Championships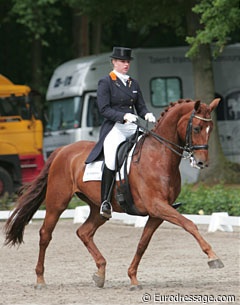 I always forget that the stupid three medal system exists until the European Championships come round the corner again in the summer. In a moment of mental dehydration, the FEI decided that a medal should by won in each class of a Championship
(team test, individual test, kur test) which is a mockery for the whole concept of a "championship" where there no longer is an overall, individual champion. The best ride of the day wins a medal, no longer the best rider throughout a championship. Each year, I get incredibly annoyed by this ridiculous system, but so be it.. here is the story.
Dutch Young Rider Lotje Schoots won the gold medal for the Individual Test at the 2008 European Young Riders Championships in Azeitao, Portugal, July 19, 2008. Aboard the Grand Prix level trained Reine B, Schoots rode the winning score of 72,300 which earned her the gold medal. She placed first with four judges, but judge Maurel saw her in seventh place with 67,750%.
The French judge did not agree with his colleagues on several rides. He saw Kirsten Sieber as winner (3rd place) and Kathleen Keller as bronze medallist (10th place). Several judges totally went off the scale with the ride of the Portuguese Ainhoa Prada Ortiz. Maurel ranked him fourth with 68,750%, the Danish judge Kristensen twenty-seventh with 63,500% (!!!).
The silver medal went to Schoots' boyfriend Diederik van Silfhout aboard Mr Koopman's dark bay Ruby (by Gribaldi x Landwind). He totalled 71,350% and placed second. "This ride was just a few notches better than the one in the team test," Van Silfhout commented. Lotje was ecstatic about the couple's two medals. "It's the first time that we are first and second at a European Championships. Great huh!" Schoots said. This was Schoots' tenth Championship medal. She has won three times individual gold, five times team gold and one time silver. Of course the now "medal-plethora" system makes it much easier to rack more medals.
The bronze went to German Kirsten Sieber who scored 70,750% with Charly (by Chagallo x Calvadur). Two weeks ago, Sieber was only one of two young riders invited to compete at the 2008 CDIO Aachen and that high profile show had given her confidence to do well in Azeitao. The result: team silver and individual test bronze...and one more medal opportunity on Sunday in the Kur to Music.
"Aachen give me must trust in Charly," Sieber commented. "I can rely on him 100 % as he confirmed his good form and good training in Aachen." Sieber goes to college in Dortmund and just finished a degree in History and German. She is now in training to become a bank clerk for the Dresdner Bank.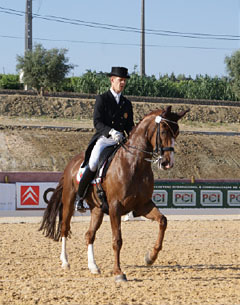 Only admitted to the team a few days before departure to Portugal, German Ann Kristin Dornbracht recovered well from her mediocre ride in the team test and placed fourth in the individual test, opening opportunities for the Kur. She scored 70,400% and kept team mate Lina Sofie Bockmann on Wolkenstein III right behind her.
Best ranking non-Dutch/German combination was Portuguese Boaventura Freire on the Westfalian bred Derby L (by Derby Favorite). Competed by Hermann Gossmeier at the World Young Horse Championships almost ten years ago, Derby L is a lovely, experienced small tour horse with the potential to score well. In the individual test, the duo scored 68,850% and finished sixth.
Photos copyrighted: Astrid Appels/Eurodressage
Back to the 2008 ECJYR Index