2008 European Junior and Young Riders Championships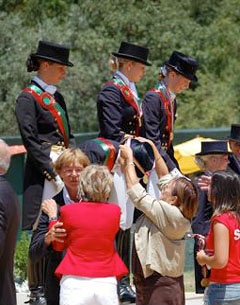 The Dutch Young Riders Team reigned surpreme at the 2008 European Young Riders Championships in Azeitao, Portugal, July 17, 2008. Defeating an unusually weak German young riders team, Holland took team gold with 212,800 points overall, a staggering 5,733 percentage point difference from the silver earning German team.
Three of the top four places were covered by Holland's leading Young Riders. The expected winner of the individual gold medal, Lotje Schoots, fulfilled her role as anchor rider for the Dutch and scored 72,489% which made her win the class with her chestnut mare Reine B (by Rubinstein). Schoots' boyfriend Diederik van Silfhout placed sceond on the Gribaldi offspring Ruby (70,578%). Cindy van den Berg and her sister Angela's veteran mount Mix (by Cocktail x Sultan) slotted in fourth with 69,733%. Marrigje van Baalen and the gorgeous Oldenburg stallion Don Cardinale (by Donnerhall x Feinbrand) were the scratch score with 68,400%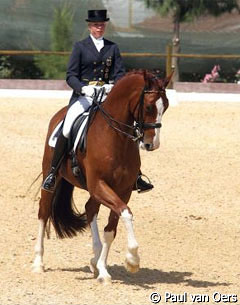 The only German who was able to crack the 70% was Kirsten Sieber on her chestnut Holsteiner gelding Charly (by Chagallo). She achieved 70,089% and finished third. It is incomprehensible that a huge dressage nation like Germany was unable to pick a team this year with riders that are able to score above 70%. Holland reclaimed the team gold medal for the third consecutive year in a row. Germany's last team gold dates from 2005.
"I'm very happy," chef d'equipe Tineke Bartels said. "The Young Riders performed at the level we expected from them. We have such a good team. The Young Riders won the gold with much power, making a big difference."
The second highest scoring German was Kathleen Keller on the Hanoverian Wonder FRH (by Werther x Maat I). They received 69,289% from the panel of judges (5th place). Lina Sofie Bockmann and the Hanoverian Wolkenstein III (by Weltmeyer) placed seventh with 67,769%. The German scratch score ride was Ann Kristin Dornbracht's on Gryffindor. A failed pirouette and mistake in the flying changes reduced her score to 66,933%.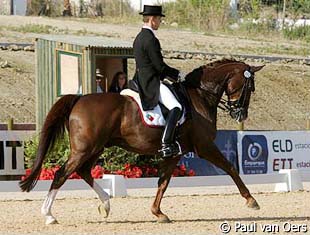 The Danish Young Riders captured the bronze with a 195,600 total points. The leading Danish rider was Anna Kasprzak on the licensed stallion Blue Hors Future Cup (by Florestan). She achieved 65,644% and had team mate Mette Hviid Schultz on Dawina placed right behind her with 65,467% Camilla Rasmussen and Ratzo followed on 16th place with 64,489%.
Local hero Boaventura Freire got eliminated from the team test. His horse Derby L bit his tongue and started bleeding from his mouth. He will get the chance to compete again tomorrow in the individual test.
Photo Sieber and Freire copyrighted:Paul van Oers/Equestrian-database.com