2008 Bundeschampionate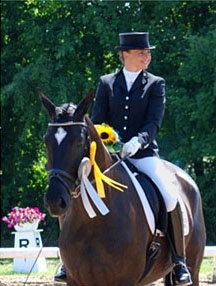 La Noire and La Stella were the winners of the Aubenhausen Bundeschampionate Qualifier held at the dressage stable of the Werndl family in Aubenhausen, Germany, June 27-29, 2008.
Dorothee Schneider and La Noire won the 5-year old Dressage Horse division. The Londonderry offspring, owned by the Swiss R. Lualdi, scored an impressive 8.1. and ranked at the top of the leaderboard. Nicole Casper and Birkhofs Denario (by Denaro) finished second with 8.0. Casper also qualified Dave (by Denaro) for the Bundeschampionate with 7.9.
The 6-year old Dressage Horse division was won by Rudolf Widmann on La Stella with 8.3. He was the only combination to achieve the qualification score.
Results
5-year old Dressage Horses
1 La Noire - Schneider,Dorothee - 8.10
2 Birkhofs Denario -Casper,Nicole - 8.00
3 Dave - Casper,Nicole - 7.90
4 Für Immer - Boos,Christina - 7.60
5 Dundee - Geisenberger,Sarah - 7.40
6 Degas - Weeber,Bettina - 7.10
7 Schützenkönig - Kufner,Ursula - 7.00
8 Woycek Gärtner,Markus - 6.90
9 Rodolfo - Stechele,Maximilian - 6.80
9 Pina Colada - Ullmann,Katharina - 6.80
6-year old Dressage Horses
1 La Stella - Widmann,Rudolf - 8.30
2 Renommee - Werndl,Benjamin - 7.50
2 Fiorucci - Fircks,Johanna von - 7.50
4 Luiazao - Rügheimer,Constanze - 7.30
4 Die Eine vF - Zeppke,Anna - 7.30
6 Danone II - Wahler,Theresa - 7.20
7 Danzaro - Waldvogel,Martin - 7.00
8 Montepiano II - Kempkes,Matthias - 6.90
8 Wildlife - Kirchhoff,Senta - 6.90
8 Fantastic - Krauspe,Andrea - 6.90
11 Lord of Lennox vF - Fircks,Johanna von - 6.70
12 Sir Alfred Casper,Nicole - 6.50