Trakehner Breeding News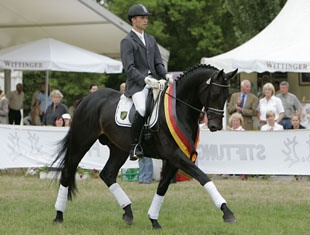 Le Rouge, Axis and Insterburg outmaneuvered the competition and became Trakehner Champions at the 2008 German Trakehner Championships in Hannover, Germany, July 3-6, 2008.
The 2008 Trakehner Championships were held for dressage, show jumping and eventing horses of all age classes.
At M-level (Fourth level), the 2004 Trakehner Licensing Champion Le Rouge (by Pret a Porter x Tycoon) outshone the rest by scoring 8.3 and 8.0 in the two rounds. Under Nera Nass, the elegant chestnut stallion became the 2008 Trakehner Dressage Horse Champion.
At FEI level, Axis and Insterburg were the overall high point champions after two rounds. In the small tour, Finnish Terhi Stegars and Axis won the S-test ((838 points) and the Prix St Georges (69,417%) and placed third in the Intermediaire I Kur to Music (71,333%). Stegars is based in Germany at Norbert Timm's Gestuet Hohenschmark. The black licensed stallion Axis is by Sixtus out of Akansas (by Angard x Herzbube) and is owned by Sian Reade of the British Bluewood Stud. At the Championships, Axis performed his first Intermediaire I level test.
In the big tour, Carola Koppelmann and Insterburg TSF gathered the most points overall after two rounds. The lovely combination placed third in the Intermediaire II (65,447%) and won the Short Grand Prix (68,618%). Insterburg is by Hohenstein x Giorgio Armani and has been in training with Koppelmann since he was a youngster.
In the riding horse classes, especially the four-year old stallion stood out. Trakehner breeding director Lars Gehmann was especially impressed by the 4-year old winner Elfado (by Kostolany x Roncalli xx), who scored a 10 for canter and a 9 for walk.
"In the finals we got to see attractive, rideable horses with good basic gaits. All of them were light to ride," Gehmann commented. Petra Wilm, president of the Trakehner Verband, said. "We had a very successful National Championships which started out with problematic weather but then got better and better."
Photos copyrighted:  S. Lafrentz
Results
S- Test
1. Terhi Stegars - Axis - 838.00 (Finland)
2. Peter Koch - Karolinger - 831.00
2. Karin Lührs - Sergeant-Pepper - 831.00
4. Willi Feltes - Gegenwind - 812.00
5. Peter Koch - Avoni TSF - 808.00
6. Pascale Sax - Peron Junior - 807.00 (Luxembourg)
7. Willi Feltes - Mon Baron - 800.00
8. Karin Winter-Polac - Hoftänzer - 793.00
9. Nicole Klatt-Cissee - Sea Cloud - 792.00
10. Peter Koch - Konradi TSF - 784.00
Prix St. Georges
1. Terhi Stegars - Axis - 69,417 (Finland)
2. Peter Koch - Avoni TSF- 68,917
3. Peter Koch - Karolinger - 68,500
4. Peter Koch - Konradi TSF - 66,750
5.  Karin Lührs - Sergeant-Pepper - 66,000
6. Tommie Visser - Monte Castello - 65,600 (Holland)
Intermediaire I Kur to Music
1. Peter Koch - Karolinger - 73,166
2. Peter Koch - Avoni TSF- 71,750
3. Terhi Stegars - Axis TSF - 71,333 (Finland)
4. Karin Lührs - Sergeant-Pepper - 71,250
5. Tommie Visser - Monte Castello - 70,833 (Holland)
6. Nicole Klatt-Cissee - Sea Cloud - 69,300
7. Pascale Sax - Peron Junior - 69,000 (Luxembourg)
8. Annette Bossmann - 13 Arminius - 65,04
9. Nils Bezold - Donaudichter - 64,666
10. Willi Feltes - Gegenwind - 64,083
Intermediaire II
1.  Carola Koppelmann - Hinnerk TSF - 67,561
2.  Lutz Weyland - Mon Acteur TSF - 66,179
3.  Carola Koppelmann - Insterburg TSF - 65,447
4.  Corinna Hellmann- Tantris TSF - 61,626
Short Grand Prix
1. Carola Koppelmann - Insterburg TSF - 68,618
2. Carola Koppelmann - Hinnerk TSF - 65,935
3. Lutz Weyland - Mon Acteur TSF - 64,797
4. Andreas von der Lahr - Sternenglanz - 61,382
5. Pascale Sax - Bonus - 59,34 (Luxembourg)
6. Inger Jane Steen - Gaspar - 57,39
Related Links
Le Rouge, 2004 Trakehner Licensing Champion