2008 CDIO Aachen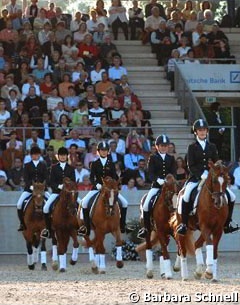 The 2008 CHIO Aachen kicked off a few days before the dressage classes started with a horse show called "Horse & Symphonie". There was a Pony All Star quadrille as well as a Harry Potter mise-en-scene with horses as protagonists.
Pony all star quadrille" titled "Deutschlands Zukunft" was ridden by Theresa Bausch & Dornik Double, Viktoria Braun & Voyager, Michelle Frenzen & Dance of Joy, Stefanie Keens & Kensington, Florine Kienbaum & Donnertraum, Nathalie Overmann & Dinarion, Jill de Ridder & Don Ramiro und Karolin Voßbeck & Deshima.
The "Harry Potter" quadrille was organized by Renate Dahmen of Stall Dahmen (she is Jana Kun's mother) with their own riders (Anouk Teeuwen, Celina Hahn, Julia Vohn, Sarah Vazques,  Karina Siemes, Lia Droste, Eva Pohl, Leonie Teeuwen, Andrea Werth). Hubertus von Zedwitz on Sabine Rueben's Weltfurst and Jana Kun. They portray Franz Josef and Sissi.
Check out Barbara Schnell's Aachen Image Gallery below.
All photos copyrighted Barbara Schnell - No Reproduction Allowed without Permission/Payment
Back to the 2008 Aachen Index