2008 CDIO Aachen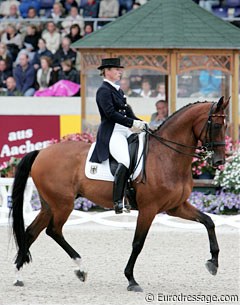 It clearly was an Isabell Werth day on Thursday June 3 at the 2008 CDIO Aachen in Aachen, Germany. Not only did Werth put in a stellar performance on Satchmo, but also on Warum Nicht she reigned supreme. Isabell Werth was a league of her own, outshining her team mates and all other European competitors that were assembled in the Deutsche Bank arena in Aachen that day.
The second group of riders of the CDIO Grand Prix Nations' Cup rode on Thursday and produced strikingly more interesting performances than group 1 on Wednesday.Isabell Werth and Madeleine Winter-Schulze's Hanoverian gelding Satchmo (by Sao Paulo x Legat), however, were phenomenal and gave an exemplary performance of what pure dressage should look like!
Satchmo was fresh and alert and made no mistakes. What gives the viewer real goose bumps is the softness of the contact with the bit which is there throughout the ride. Not one moment does one see the curb at full pressure in the mouth or the rider hanging into the reins while leaning backwards, virtually lying in the saddle, with the legs sticking next to the horse's shoulders. Isabell travels along upright in the saddle and enjoys the ride! The piaffe-passage and transitions were outstanding, the pirouettes super tiny, the flying changes ground covering. The only remark one could make to the ride was that Satchmo could push his hindlegs more powerfully off the ground in the passage, but it would be nitpicking to consider this a big issue. Werth praises her horse after an exercise well performed and restores the perfectly soft contact immediately.
It was a delight to watch and it makes one wonder how Anky's Salinero or any other tense horse would react to an "uberstreichen" in the middle of a Grand Prix test at such an important event! The end halt was immobile, Satchmo stood like a statue and Isabell carressed his ears in joy. They scored 76.917%, placing first with all judges and taking the German team to victory in the Nations' Cup.
"I am super, super, super, super happy with my ride," Isabell Werth said. "It was a fun ride with optimal looseness and power. In the middle of the test I felt it was great and was able to smile during the class. Only the first halt was a bit less."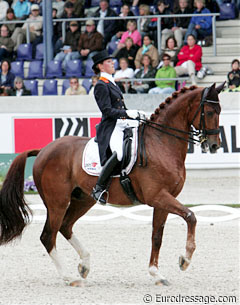 But it was not all German brilliance in Aachen! The Netherlands had entered their B-team for the Team Championship and using their Olympic reserve rider, Adelinde Cornelissen, as anchor. And what an amazing job this 28-year old new comer to international dressage did. She blew away all other German Olympic A-team riders by scoring 73.125% and placing second! Cornelissen absolutely earned her score and place in the class and it was a total reality lesson for the Germans, who will have to pull something extra out of the hat if they want to win team gold at the 2008 Olympic Games; especially now that a Dutch reserve rider has proven to be able to beat two of three German team members!
In the pouring rain, the cool-headed Cornelissen and her long legged 11-year old Dutch bred Parzival (by Jazz x Ulft) outclassed the other Germans with their power, engagement and light footed execution of the movements. Her ride shone by the strong extended trots, lovely tempi changes that were straight and big and a fantastic end piaffe and passage on the centerline with smooth transitions! There was some loss of rhythm in the zig zag and on a few occasions, Parzival made a double beat with his hind legs in the passage. Nevertheless, it was delightful to watch. Cornelissen could sit a bit more straight in the saddle, but fortunately her contact with the bit is good and there is no coming behind the verticle in this Dutch ridden horse.
"This is such a great feeling," Cornelissen commented. "It is my third competition abroad and I was really able to ride him. There was no tension so I didn't have to focus on not making mistakes. It was a pity that Pazival lost some rhythm in the first passage, but he gave me wonderful feeling the rest of the ride."
The Dutch team placed second in the Nations' Cup (207.708) far behind Germany (220.959). The Danish team placed third (205.833), followed by Sweden.
Cornelissen was the lead rider contributing to the most points for Holland. The second best placing Dutch rider was Edward Gal on Mr Nekeman's Dutch warmblood gelding Next One (by Jazz x Le Mexico). Gal got 67.958% and placed thirteenth. Next One is a normal looking horse lacking that super star movement potential, but Gal showed some nice stuff on the 13-year old gelding, for instance a beautiful piaffe and passage. Jeannette Haazen and Nartan were the third Dutch riders adding to the team score.
Dutch chef d'Equipe Mariette Sanders was very pleased with the results "I can only be but very happy with this performance at the highest level in the sport," Sanders said. "We want to keep our A-team solely for the Olympics and nothing else."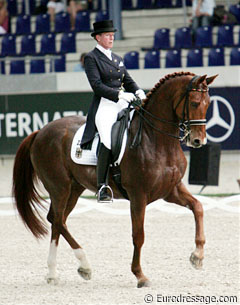 Heike Kemmer and the Hanoverian gelding Bonaparte were the group 1 winners of the class, but ranked third in the final standing with 72.250%. Kemmer delivered a very clean ride with no wow-effect, but going for safe points. She made no major mistakes and the quality of her horse in all three basic gaits pushed the score to a low 72%.
"He was a dream to ride," Kemmer commented. "I was the able to enjoy being first a whole day and a night. I hope I can keep performing like this."
Bonaparte is very prone to injuries and is only competed at important selection events. In Aachen, they have proven their relevance to the German team and have most likely secured a spot on the Olympic team, which will be announced Sunday afternoon.
Nadine Capellmann and her Hanoverian gelding Elvis (by Espri x Garibaldi II) slotted in fourth place with 71.792%. The flashy chestnut showed superb extended trots but had an issue in the second piafffe. The passage is powerful and off the ground, but the transitions to and from passage could be clearer. A moment of stress appeared in the single tempi changes. Elvis tensed up his back, opened his mouth and did not cover ground while changing.
"Overall I'm very happy with him," Nadine said. "He showed good extensions and half passes, but there was a small problem in the piaffe. The second half of the test was a bit less. The test I rode was a good performance for the team."
Only four riders were able to score over 70% in the CDIO Grand Prix, which was particularly low. German chef d'equipe and I-judge Martin Richterhagen commented that the judges "scored quite conservatively on the first day and then they can't just go up. They have to stay at the same level, stay stable in their scoring."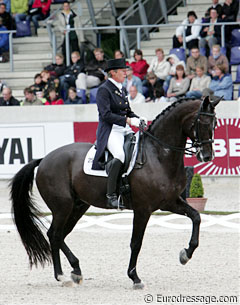 Finnish Kyra Kyrklund ranked fifth with 69.958%. She would have easily gotten over 70% aboard Yvette Conn's Swedish warmblood gelding Max (by Master x Alpenfurst) had he not spooked from the tv-camera at C in the collected walk. Max was outstanding in the extended walk and canter, but in trot could show more push from behind.
Swiss Silvia Ikle, who boycotted the entire Swiss Olympic team entry by withdrawing from Olympic team selection, had her act together in Aachen. With Hansruedi Geissmann's Swiss bred Salieri (by Sinklair x Lysander), Ikle showed textbook exercises in the ring. Her steady, soft contact with the bit resulted in a Happy Athlete performance with highlights in the piaffe and passage. The final pi-pa centerline was so brilliant that one wonders why judges don't consistently score this a 9 or 10 (she got 8s and 9s for it). Loss of rhythm in the first extended trot, an unscripted flying change before the pirouette right and a loss of impulsion in the pirouette left were mistakes that gnawed off some points of total. She placed sixth with 69.625%.
The CDIO Grand Prix Special takes place Saturday July 5, 2008.
Text and photo copyrighted: Astrid Appels/Eurodressage
Back to the 2008 Aachen Index