2008 U.S. Dressage Championships
Steffen Peters and Ravel were crowned USEF U.S. Grand Prix Dressage Champions (aka Festival of Champions) and won the USEF Olympuc Selection Trials for the 2008 U.S. Olympic Team in Dressage with a spectacular performance in the Grand Prix Freestyle.
The pair finished first with a remarkable score of 79.500%.
Peters, Debbie McDonald and Courtney King-Dye finished in the top three places to represent the U.S. at the 2008 Olympic Games in Hong Kong.
"We had to go for it a little bit more today," said Peters. "You have to know what's in there, know what's in the freestyle and when you start next time in Hong Kong you can carry that feeling over."
Starting to music by the Rolling Stones, Ravel rolled through his test in front of a packed house, his score in the Freestyle brought his four-day average to an impressive 75.863%.
"I've never heard people scream louder than today," said Peters after his test.
The San Diego rider and veteran Olympian withstood a serious challenge from Debbie McDonald and Brentina but prevailed to run the board and remain undefeated in 2008. Aikiko Yamazaki's 10-year-old Dutch Warmblood gelding (by Contango x Democraat) has made very few mistakes over the last two weekend and looks poised to continue to improve on his way to Hong Kong for the 2008 Olympic Games.
"I'm so excited how well Ravel takes that pressure," said Peters. "I think that we can even turn it up a little bit in Hong Kong."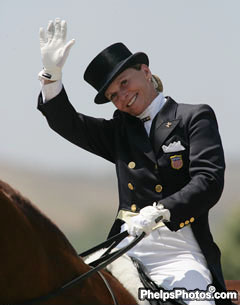 Debbie McDonald's emotional performance with Brentina (by Brentano II x Lungau), ending with Aretha Franklin's Respect, some in the audience in tears. The gallant 17-year-old Hanoverian mare is making her final attempt for a spot on a team in 2008. The World Equestrian Games and Olympic medalist has a sparkling resume which also includes a World Cup title.
"Considering that may be my last freestyle with her, I really honestly could not have asked for more," said McDonald. "She was really ready, I really always judge those first circles of twos, if she stays on my aids for that I know she's going to be pretty much with me for the rest of the ride."
Her brilliant performance today ensured that, although this will be one of her final performances, she will be going out on top.
"If we can pull it off at the Olympics that would be the only thing better than this," said McDonald.
Owned by Peggy and Parry Thomas of River Grove Farm in Hailey, ID, Brentina didn't disappoint her legions of fans with a score of 78.750%, this gave her a two-day total of 73.697% good enough for second place overall.
"Some times I just can't contain myself," said McDonald about getting the fans involved at the end of her test. For me the fun part about the freestyle is to get the audience involved. I've got a horse that loves it so why not?"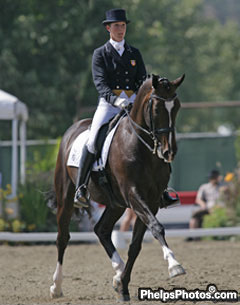 Courtney King-Dye and Harmony's Mythilus (by Ferro x Purioso) finished just behind McDonald and Brentina on a 78.050% with a brave performance in a freestyle test that was relatively new to them.
The 14-year-old Dutch Warmblood gelding owned by Harmony Amateur Sports Foundation improved throughout the Championship, saving his best performances for the final two days. The finished with an overall score of 73.333%.
"This is the culmination of 21 years of work," said King-Dye about the chance for a trip to her first Olympic Games. "You can work as hard as you possibly can and be a great rider and never have this chance. I have to thank all the stars working in my favor and all the people who have helped me along the way. I'm thrilled to be on a team with Debbie and Steffen. I've admired them for years and years."
In a freestyle featuring her favorite Cat Stevens song, Sad Lisa, Mythilus made no mistakes and rewarded King-Dye for all of her faith in him.
Photos copyrighted: Mary Phelps/Phelpsphotos.com
Full Coverage of the 2008 Festival of Champions at Dressagedaily.com
Related Links
Scores of the 2008 Festival of Champions
Michelle Gibson Wins 2008 U.S. Small Tour Dressage Championship
Adrienne Lyle Wins 2008 American "Brentina Cup" Championship
Small Tour Qualificants for the 2008 U.S Dressage Championships
Big Tour Qualificants for the 2008 U.S Dressage Championships