2008 U.S. Dressage Championships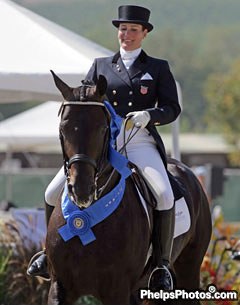 Michelle Gibson's lock on the USEF U.S. Intermediaire I Dressage Championship never looked in danger today once she set foot in the arena to perform her freestyle with Don Angelo.
The 2007 USEF National Developing Horse Dressage Champion for 7-9 year olds demonstrated unbelievable maturity throughout the weekend earning a score of 76.400% in his final effort, giving them a three-day score 72.898%.
"I'm so excited," said Gibson after her ride. "The second pirouette got a hair big on me but I could not have asked for more. He helped me out everywhere. He totally stepped up to the plate, I'm very excited."
Owned by Terri Kane, the now 8-year-old Oldenburg stallion, by Don Larino out of Elektina (by Rubinstein), matched his music perfectly and made no mistakes throughout his impressive performance. Gibson isn't sure what the next step for Don Angelo is, but the Team Bronze medalist from 1996 has high hopes for her newest star. She designed her freestyle to suit the horse and his current level of training.
"He's eight," explained Gibson. "I'm sure that there were more difficult Freestyle in there. It was more important to show off all of his best qualities. We put together a freestyle that shows him off to the best of his abilities. The canter is the most impressive part about him. The last trot extension felt really quite good too."
Gibson is happy with how the weekend progressed for Don Angelo, she was particularly pleased with how he reacted to the crowd.
"I'm really proud of him because he stepped up to the plate," said Gibson. "The first day maybe he was a little bit tired. The second day he pepped up a little bit."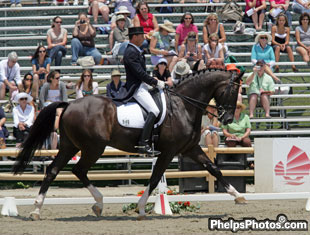 Steffen Peters got the day off to an excellent start, moving up from third to second in the Intermediaire I Championship on the strength of an excellent freestyle on Mary Keenan's Montango (by Contango). The pair score 72.900% to finish the three days with 70.960% total.
"It started out real good," said Peters. "I was right on the music in the trot work, toward the end I got just a tiny bit ahead. Usually I end the test with two-tempis on the centerline but since I was ahead I did the diagonal and a serpentine and I was really pleased because it made it a little bit more difficult."
The excitable 14-year-old Dutch Warmblood gelding seemed to really settle in the ring over the past two days.
"At the end of the day when you have a hot nervous horse it is the exposure to those environments (that make the difference)," said Peters. "I could actually ride him yesterday and today and I didn't have to hold him back so much."
Peters doesn't think that Montango, despite having plenty of ability, is quite ready to move up to Grand Prix.
"He does a real nice piaffe and his one tempis are confirmed but the Grand Prix work gets a little keyed up," said Peters. I take my time with my horses and I will let him tell us when he's ready but I hope to do Intermediaire II next year."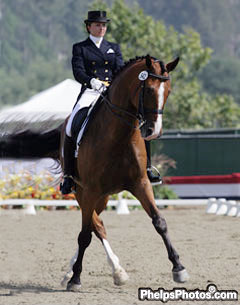 Shawna Harding rode Come On III (by Come Back II) to fifth place in the freestyle with a score of 70.200% but it was good enough for third place overall with 70.545%. Harding rode to classic rock, featuring Fergie, AC/DC, The Scorpions, Queen, ZZ top and Joe Cocker. Always a favorite with the crowd, Harding was disappointed to have a couple of mistakes in her test.
"Today he wasn't on his game," said Harding. "He wasn't quite with me. He cantered in the first trot half pass… but I'm sitting between two Olympic riders. There are just some little things creeping in that I can't take for granted. He got here on Monday and had a little bit of a crunch getting over the flight. He really tried from his heart but he just had a little tired weak body."
The 9-year-old Danish Warmblood was runner-up behind Don Angelo in the 2007 USEF National Developing Horse Dressage Championship for 7-9 year olds demonstrating the depth of the developing U.S. dressage program.
Photos copyrighted: Mary Phelps/Phelpsphotos.com
Full Coverage of the 2008 Festival of Champions at Dressagedaily.com
Related Links
Scores of the 2008 Festival of Champions
Steffen Peters Perfect at 2008 U.S. Dressage Championship
Adrienne Lyle Wins 2008 American "Brentina Cup" Championship
Small Tour Qualificants for the 2008 U.S Dressage Championships
Big Tour Qualificants for the 2008 U.S Dressage Championships