2008 Olympic Games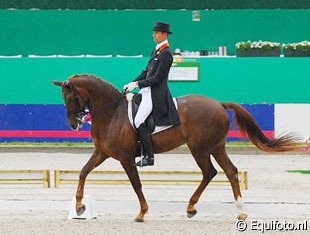 The results at the final Dutch Olympic Selection trial at the 2008 CDIO Rotterdam spoke for themselves on who made it on the Dutch team, but Dutch chef d'Equipe Mariette Sanders officially oracled the Dutch Olympic team in an official press conference at the show.
The Dutch Olympic Team is the same as the one that won team gold at the 2007 European Championships in Turin: Anky van Grunsven on Salinero, Imke Schellekens on Sunrise and Hans Peter Minderhoud on Nadine. The travelling reserve is Adelinde Cornelissen on Parzival.
"The past few months we have been working together in great consensus with the Olympic short listed riders," Sanders explained. "Looking back to this Olympic short list and how we worked together toward selecting a definite team, the whole process proves to have been very valuable. I hope to work like that in the same way towards the 2009 European Championships and 2010 World Championships."

The dressage horses will go into quarantaine on July 17 and they will be stabled at Wilco van Grunsven in Erp, The Netherlands, together with the Dutch show jumping horses. On July 25, they fly from Amsterdam to Hong Kong.
Photo copyrighted: Equifoto.nl
Back to the 2008 Olympic index