2008 Danish Dressage Championships
Andreas Helgstrand has won his fourth national Grand Prix title at the 2008 Danish Dressage Championships in Broholm, Denmark, June 13-15, 2008. Aboard the Oldenburg stallion Blue Hors Don Schufro (by Donnerhall x Pik Bube), Helgstrand won all three rounds of the championships with 76% in the Grand Prix, 77% in the Special and 79% in the Kur to Music.
Helgstrand was the favourite for the title and had entered the championship with two horses: the 15-year old Don Schufro and the 9-year old Gredstedgaards Casmir. Not the young gun Casmir but the veteran Don Schufro rose to the top and claimed the gold medal. Nathalie Zu Saeyn Wittgenstein won silver on Rigoletto (by Rubinstein) and Anne van Olst bronze on Clearwater (by Carpaccio x Limebrand).
"Ive waited for this five years," Andreas Helgstrand commented. Five years ago, Don Schufro and Andreas were the numbers two of the championship and in the meantime Andeas won the national title with Cavan, Matine and Casmir. This year Helgstrand won his fourth title with his fourth horse. The previous years, Don Schufro had to deal with many injuries, but this year he's fit and healthy and they've demonstrated that in Broholm.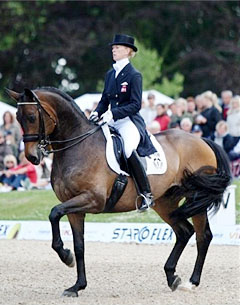 Nathalie Zu Saeyn Wittgenstein also had two horses in the running for a medal, Digby (by Donnerhall) and Rigoletto. Though she got the better scores on Digby, she chose Rigoletto for the freestyle because the kur music had been ready since last winter and it fits his impressive piaffe and passage.
Dutch based Anne van Olst-Koch won the bronze medal on Clearwater, a Danish bred gelding which sponsor Anthony Kies of Team Exquis purchased for her from Dane Klaus Munkedal. Clearwater, which was previously shown by Sanne Hennigsen, has only been in training with van Olst for half a year.
Anders Dahl and Fiona Bigwood's 18-year old Afrikka finished fourth and have also been selected with the other top three riders to compete at the CDIO Aachen. There, Danish team trainer Rudolf Zeilinger will pick the three riders for the Danish Olympic team.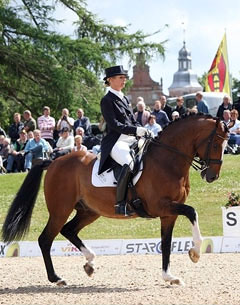 The major question for Danish dressage at the moment is whether Helgstrand will pick Don Schufro or Casmir for the 2008 Olympic Games. To increase medal chances for the Danish team and for Andreas as individual rider, he should pick his highest scoring horse, which means Don Schufro at the moment. However, Don Schufro is prone to injuries and even though he's fit right now, he will be constantly monitored by the veterinarian. The final decision for the Olympic horse will be made by Blue Hors in agreement with the veterinarians.
Photos copyrighted: Ridehesten.com - More coverage from the Danish Championships on Ridehesten!
Related Links
Scores 2008 Danish Dressage Championships
Clearwater Sold to The Netherlands