2008 World Championships for Young Dressage Horses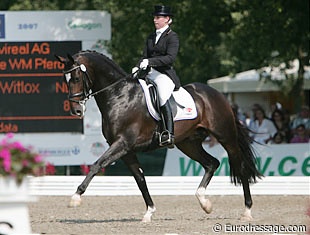 On May 20th, the first selection trial for Dutch candidates for the 2008 World Championships for Young Dressage Horses took place. On June 10, 2008, the first official training session with the long listed horses happened in Ermelo, The Netherlands.
Young horses, which were unable to make it at the selection trial, got their last chance to present themselves at this training session. One horse was added to the long list: Mirelle van Kemenade qualified Pavo Cup reserve champion Vivaldo (by Polansky).
The second training session with the Dutch young horses will occur on June 23, 2008. A major problem for the Dutch selection committee has arisen as three of the most powerful horses currently on the long list probably won't make it to Verden as their riders Imke Schellekens-Bartels and multiple world champion Hans Peter Minderhoud will most likely be competing at the Olympic Games in Hong Kong.
The current Dutch WCYH Long List includes:

5-year olds
Welt-All (Diamond Hit x Negro) – Theo Hanzon
Westenwind (Flemmingh x Contango) – Emmelie Scholtens
Westpoint (Jazz x Michelangelo) – Emmelie Scholtens
Winoa (Jazz x Flemmingh) – Bart Veeze
Wolly Ann (Stravinsky xx x Ulster) – Christa Laarakkers
Wonderboy (Ramon x Nimmerdor) – John Tijssen
Wynton (Jazz x Matador II) – Madeleine Witte-Vrees
6-year olds
Citango (Contango x Jazz) – Nars Gottmer
Voice (De Niro x Rohdiamant) – Imke Schellekens-Bartels
Johnson (Jazz x Flemmingh) – Hans Peter Minderhoud
Valentino S (OO Seven x Contango) – Isabelle van Zaanen
Veni Vidi Vici (Krack C x Amsterdam) – Marije Tromp
Vivaldi (Krack C x Jazz) – Hans Peter Minderhoud
Vivaldo (Polansky x Montecristo) – Mirelle van Kemenade-Witlox
Vontango-B (Contago x Jazz) – Madeleine Witte-Vrees
Because the KWPN breed society is one of the largest in the world, The Netherlands is eligible to send SIX horses per age class to the World Championships. Smaller dressage nations, which allow all breeds to their selection trials and which have already proven to be successful in Verden with their horses (e.g. Belgium, USA) are only allowed to send TWO horses per age class! This unfair rule needs to change quickly!
Photo copyrighted: Astrid Appels/Eurodressage