2008 Bundeschampionate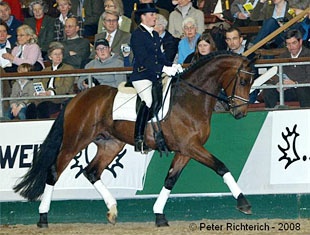 Imperio and Don Marbeda were the big winners of the Bundeschampionate qualification classes at the Hamburg selection trial at Anakenenhof on June 4, 2008. Five 5-year olds and three 6-year olds made the cut and are allowed to compete in the big finals in Warendorf in September.
Anna Sophie Fiebelkorn pulled out all the stops and won the 5-year old Dressage Horse class with Imperio. The Trakehner licensed stallion by Connery x Balfour xx, who was previously shown by Friederike Schulz-Wallner, scored a superb 8.6 mark and ranked 0.2 points ahead of second placed Alexandra Bimschas on Waldenser (by Worldy x Amerigo Vespucci xx). Fiebelkorn also finished third with Dinamic (by Dimaggio x Rubinstein) on 8.3. Martina Hannover-Sternberg and Donna Medici (by Don Larino x Rouletto) placed fourth with 8.2. Fiebelkorn qualified her third 5-year old for the finams by finishing fifth with Realized Dream (by Roadster x Brentano II) with 7.8.
Hannes Baumgart and the elegant black Hanoverian Don Mardeba (by Don Frederico x Schampus xx) won the 6-year old Dressage Horse divison with 8.1. Katrin Bettenworth captured both second and third place. With the experienced youngster Die Insel (by Diamond Hit x Inselfürst) she scored 8.0 and with Die Süsse (by Diamond Hit x World Cup II) 7.8.
Photo of Imperio copyrighted: Peter Richterich
Results
5-year old Dressage Horses
1 Fiebelkorn,Anna-Sophie - Imperio - 8.60
2 Bimschas,Alexandra - Waldenser - 8.40
3 Fiebelkorn,Anna-Sophie - Dinamic - 8.30
4 Hannöver-Sternberg,Martina - Donna Medici - 8.20
5 Fiebelkorn,Anna-Sophie - Realized Dream W - 7.80
6 Lens,Jan - Easy Game - 7.60
7 Hannöver-Sternberg,Martina - First Love NRW - 7.50
7 Bimschas,Alexandra - Lovely Princess - 7.50
9 Baumgart,Britta - Burlington - 7.40
10 Grondys,Andrea Claudia - Pentagon - J - 7.30
11 Stegars,Terhi - Romeo - 7.20
12 Oldershausen,Christine von - Doktor Vogel - 6.90
12 Blanken,Stefan - Rosemary - 6.90
14 Wels,Sophie - Tajana - 6.80
14 Bartel,Danny - Occacio - 6.80
16 Nass,Vera - Dijon - 6.70
17 Huntenburg,Jochen - Doncello - 6.50
18 Röbken,Petra- Dolce Vita - 6.20
19 Lünstedt,Julia - Sternensturm CN - 5.70
6-year old Dressage Horses
1 Baumgart,Hannes - Don Mardeba - 8.10
2 Bettenworth,Katrin - Die Insel - 8.00
3 Bettenworth,Katrin - Die Süsse - 7.80
4 Bimschas,Alexandra - Dark Carlotta - 7.50
5 Milczarek,Katarzyna - Don Windsor- 7.30
5 Nass,Vera - Le Rouge - 7.30
5 Gießelmann,Jan-Dirk - Laokoon B - 7.30
8 Lührs,Karin - San Marino - 7.20
9 Koch,Peter - Daintree - 7.10
9 Boger,Herbert - Wesley - 7.10
11 Oldershausen,Christine von - Lexani - 7.00
12 Weiß,Annette - Lillebror - 6.90
13 Jahnke,Franziska - Balinio - 6.80
13 Nass,Vera - Degazzoni - 6.80
13 Fiebelkorn,Anna-Sophie - Ferrari - 6.80
16 Klaus,Hans-Peter - Contendros Bube - 6.70
17 Voss,Esther - Dernier Crie - 6.40