2008 Bundeschampionate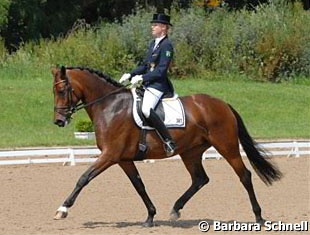 Six 5-year olds and four 6-year olds qualified for the Bundeschampionate Finals in Warendorf by scoring 7.8 or higher at the Duisburg-Hamborn regional qualifier June 6-8, 2008. Forever Fun and Louisdora took highest honours by topping the leader board.
The young Max Wadenspanner won the 5-year old Dressage Horse division aboard Forever Fun, a Rhinelander gelding by Florestan. He scored 8.3 and beat veteran trainer and Canadian team coach Norbert van Laak on Recall, who scored 8.1. Luxembourg based Danish Grand Prix rider Fie Skarsoe landed third place on Rash. She scored 8.0 and stayed ahead of Jana Freund on Furst Fantasy (by Furst Heinrich x Rosenkavalier) and Achim Frenzen on Fiasco (by Fidermark x Champus).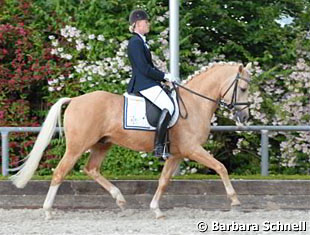 The Frenzen family was highly successful in Duisburg-Hamborn. Achim's daughter Annabel won the 6-year old Dressage Horse Division with their Louisdora and younger sister Michelle won the A-level class for 5-year old Dressage Ponies with White Gold. On their home bred Rhinelander branded mare Louisdora (by Louis le Bon x Raphael), Frenzen scored a decent 8.1 and finished first. Ingrid Klimke and Dante (Diamond Hit x Beach Boy) were on Frenzen's heals with 8.0. Mareike Mondrowski and her Hanoverian mare Waioni (by Waikiki x Fabriano) slotted in third with 7.9. Jus Michael Lürsen and Schneekoppe Dot Com (by Dollmann x Charmant) received 7.8 from the judges.
Photos copyrighted: B. Schnell
Results
5-year old Dressage Horses
1 Forever fun - Wadenspanner,Max - 8.3
2 Recall - Laak,Norbert - 8.1
3 Rash - Skarsoe,Fie Christine - 8.0
4 Fürst Fantasy - Freund,Jana- 7.9
5 Fiasco - Frenzen,Achim - 7.8
5 Lennox Louis - Nienhaus,Mira - 7.8
7 Wincento - Fleischmann,Fritz - 7.6
7 Femke - Söffing,Carlotta - 7.6
9 Krack - Bouten,Matthias - 7.5
9 Donna Carina - Schiergen,Heiner- 7.5
11 Wildkirsche Number One - Lochthowe,Norbert - 7.4
11 Louis White - Hoffstadt,Daniel - 7.4
6-year old Dressage Horses
1 Louisdora - Frenzen,Annabel - 8.10
2 Dante - Klimke,Ingrid - 8.00
3 Waioni - Mondrowski,Mareike - 7.90
4 Schneekoppe Dot Com - Lürsen,Just Michael - 7.80
5 Call on me - Bartelt-Ruck,Angelika - 7.40
6 Flovino - Wolf,Stefanie - 7.20
6 Dream On - Stommel,Wibke - 7.20
8 Leonie - Hottgenroth,Katrin - 7.10
8 Dartagnan - Nakath,Sabine - 7.10
10 Wienerin - Glose,Monika - 7.00
10 Finest - Schulte-Günne,Eva - 7.00
12 Wise-Guy - Unger,Anke - 6.90
12 First Step - Zimmermann,Jutta - 6.90
5-year old Dressage Ponies
1 White Gold B - Frenzen,Michelle - 7.6
2 Diana H - Overmann,Nathalie - 7.2
3 FS Dior de Luxe - Jansen,Chiara - 7.0
4 Daylight - Frenzen,Annabel - 6.8 20,00
5 Double o' seven - Werth,Juliane - 6.5
6 Dream of Nibelungen - Teeuwen,Anouk - 6.4
7 Genesis B - von Danwitz,Johanne Pauline - 5.8
6-year old Dressage Ponies
1 Holsteins Wilaro - Bachmann,Carina 7.0
2 Diana H - Overmann,Nathalie 6.8
3 Dream of Nibelungen - Teeuwen,Anouk 6.7
4 FS Dior de Luxe - Jansen,Chiara 6.6
4 Donato W - Schüren,Riccardo 6.6
6 Nancho's No Limit - Pauli,Laura-Katharina 6.5
7 Don't Touch - Hannig,Alina 6.3
8 Double o' seven - Werth,Juliane 6.1