2008 Olympic Games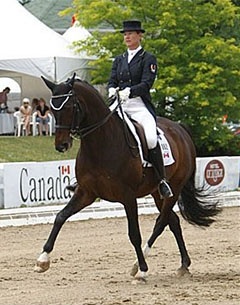 The first national dressage team that will compete at the 2008 Olympic Games in Hong Kong has been announced. Dressage Canada is the first country to release the names of the riders that will make up a team for Hong Kong.
The Canadian Olympic Dressage team, subject to approval from the Canadian Olympic Committee, will consist of the following combinations:
Ashley Holzer - Pop Art (Dutch warmblood by Amsterdam) - Owners: Ian and Moreen Nicoll and Rusty Holzer
Jacqueline Brooks & Gran Gesto (Oldenburger by Grannox) - Owners: Brinc Ltd. and Anne Welch
Leslie Reid - Orion (Dutch warmblood by Jazz) - Owner: Patricia Hatch
The travelling reserve is Christilot Boylen and Pedro Hermosilla's Baden Wurttemberger bred Gachino (by Gardez)
2008 will mark the third time that Holzer has been named to a Canadian Olympic dressage team. Holzer also represented Canada at the 1988 Olympics in Seoul, South Korea, where she was a member of Canada's Bronze medal winning team with Reipo. Riding her Dutch Warmblood stallion Imperioso, Holzer then represented Canada at the 2004 Olympics Games in Athens, Greece. Now in 2008 with Pop Art, an 11-year-old Dutch Warmblood gelding (Amsterdam x Cabochon) owned by Ian and Moreen Nicoll and Rusty Holzer, the pair achieved an average qualifying score of 72.723% on the Florida CDI circuit to again earn a berth on Canada's Olympic Dressage Team travelling to Hong Kong in August 2008. Holzer is currently ranked ninth in the Federation Equestre International (FEI) World Dressage Rankings.

Brooks and Gran Gesto (Grannox x Goldstern), a 12-year-old Oldenburg gelding owned by Brinc Ltd. and Anne Welch, were one of the first rider / horse combinations to earn the three required qualifying scores for Olympic selection, achieving an average of 68.084% on the Florida CDI circuit. Although this is the first time Brooks has been named to an Olympic Team, the pair is experienced international competitors having been members of Canada's Silver Medal winning team at the 2003 Pan American Games in Santo Domingo, Dominican Republic. Brooks and Gran Gesto have been competing at the Grand Prix level since 2004 and were named to the 2006 World Equestrian Games team and represented Canada at the 2007 World Cup Finals.

Leslie Reid, who was a team member of the 1996 Atlanta and 2004 Athens Olympic Games, will once again attend the Olympics this time with her new Grand Prix mount Orion, Patricia Hatch's 12-year-old Dutch Warmblood gelding (Jazz x Consul). Orion, in his first year of Grand Prix competition, and Reid, who calls Langley, British Columbia home, earned their qualification scores at the 2008 USA West Coast dressage CDI competitions finishing with an average of 67.278%. Reid has also represented Canada at the 1991, 1999 and 2003 Pam American Games, earning individual Gold and team Silver at the 2003 Pan American Games. 

The traveling reserve will be multiple Olympian Christilot Boylen originally from Toronto, ON, and now living in Rottingen, Germany. Boylen, whose Olympic career began in 1964 when she attended the Tokyo Olympics at the age of seventeen, and thus becoming Canada's very first Olympic Dressage competitor, has the distinction of having attended seven Olympic Games in the past 44 years (in addition to attending the 1980 Alternate Olympic Games). Boylen and her mount Gachino (Gardez x China Town), a 14-year-old Baden-Wurttemberger gelding, owned by Pedro Hermosilla and Boylen, achieved their qualification scores for the team selection in Europe where they finished with an average of 67.000%. 
 
"I am happy that we have a strong and experienced team representing Canada at the 2008 Olympics," noted Dressage Chef d'équipe Alastair Buchanan.