2008 Bundeschampionate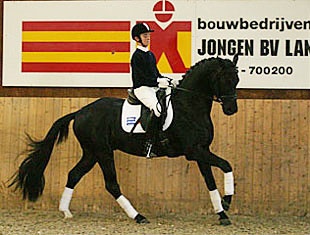 Florinero and Munchhausen S grabbed the trophy in the Bundeschampiona qualification classes at the Ludwigsburg Bundeschampionate Qualifier in Baden-Wurttemberg, March 30 - June 1, 2008.
Wiesbaden based Dorothee Schneider won the 5-year old dressage horse division aboard Sven Rothenberger's Hanoverian branded Florinero (by Furst Heinrich). She scored a strong 8.5 mark and was the winner of the class. Four horses were able to score 8.0 or higher and five qualified for the Bundeschampionate finals. Schneider also finished second with the Hanoverian mare La Noire (by Londonderry) on 8.2. Luxembourg based Sascha Schulz ranked third on Lux Dressage Dona Figuera, an Oldenburg mare by Donnerschwee. He scored 8.1.
Three 6-year old Dressage Horses obtained a berth for the Warendorf finals. The winner of the class was Michael Buhl on Munchhausen S, a Hanoverian Munchhausen offspring. The combination scored 8.4 and referred Hans-Peter Bauer on Daily Discovery (by Diamond Hit) to second place with 7.8. Danish Lone Jorgensen tied with Bauer. She rode De Vito, a Baden Wurttemberger bred De Niro son.
Results
5-year old Dressage Horses
1 Florinero - Schneider, Dorothee - 8.5
2 La Noire - Schneider, Dorothee - 8.2
3 Lux-Dressage Dona Figuera - Schulz, Sascha - 8.1
4 Dave - Casper, Nicole - 8.0
5 Future - Siegle, Maria - 7.8
6 Disco's Dominant - Knoll, Andrea - 7.7
7 Sir Sandro - Oberthür, Irina - 7.5
8 Fima ZW - Plewa, Tara Annabelle - 7.4
8 Lion King - Schaudt, Martin - 7.4
10 Diamond Star - Oberthür, Irina - 7.3
11 Comtesse des Prés - Schulz, Sascha - 7.2
12 Aline - Reber, Sabine - 7.1
12 Mabel 3- Skarsoe, Fie Christine - 7.1
14 Fair Play - Rauscher, Nadine - 7.0
14 Shylock - Schaudt, Martin - 7.0
16 Alessi - Sartorius, Simon - 6.9
17 Rash - Skarsoe, Fie Christine - 6.8
18 Lennox BB - Kemmerer, Timo - 6.6
18 San Sambavo - Zeiske, Holger - 6.6
20 Donia - Dresler, Silke - 6.5
21 Charmeur - Pfeiffer, Ingeborg - 6.4
6-year old Dressage Horses
1 Münchhausen S - Bühl, Michael - 8.4
2 Daily Discovery - Bauer, Hans-Peter - 7.8
2 De Vito - Jörgensen Lone - 7.8
4 Birkhofs Meraldik - Casper, Nicole - 7.6
5 Estoy Contigo - Schulz, Sascha - 7.4
6 Danzaro - Waldvogel, Martin - 7.2
7 D'Artagnan - Holz, Cordula - 7.1
8 Hermes - Reber, Sabine - 7.0
8 Washington - Reimann, Maresa - 7.0
10 Laurenz - Konrad Dr., Susann - 6.9
11 Don Natello - Bauer, Sandra - 6.8
11 Emily - Mayerhöfer, Kathrin - 6.8
11 Rika - Waldvogel, Martin - 6.8
14 Magic Eye - Vogt, Alexandra - 6.5
15 Sister Sunshine - Rühl, Dr., Anne - 6.3
16 Wisconti - Schulz, Sascha - 6.2
17 Winston - Lukas, Sandra - 6.0
18 Argentinus Son - Richter, Elvira - 5.7
Graziano - Zeiske, Holger - DNS
Back to the 2008 Bundeschampionate index