2008 Bundeschampionate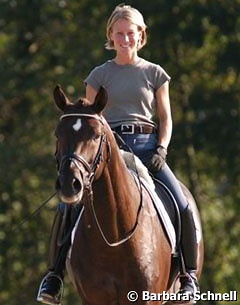 Fallersleben and Damsey were the winners of the Bundeschampionate qualification classes held at the regional dressage show in Prussendorf, Germany. Two horses in the 5-year old division and one in the 6-year old class managed to reach the qualification score of 7.8 or higher.
The winner in the 5-year old Dressage Horse division, L-level dressage test, was the liver chestnut Fallersleben under Helen Langehanenberg. Owned by Roger and Susanne van Engelant, the Westfalian branded Fallersleber (by Furst Heinrich x Royal Angelo I) scored 8.10 and beat Andrea Hintsche on the Hanoverian bred Sarotti (by Sandro Hit). This pair achieved a score of 7.8. Maren Müller-Wuttke and Dr. Jackson (by Diamond Hit) ranked third on 7.6.
Steffen Frahm won the 6-year old dressage horse class aboard Doug and Louise Leatherdal's Hanoverian licensed stallion Damsey (by Dressage Royal). Frahm scored a solid 8.0 mark and beat Alexandra Haupt on Rubens (by Rotspon). Haupt scored 7.5 which placed her second. She was followed in the ranking by Susanne Bormann on Hilarius (by Hohenstein).
Photo copyrighted: Barbara Schnell
Results
5-year old Dressage Horses
1 Fallersleben - Haupt, Alexandra - 8.10
2 Sarotti - Hintsche, Andrea - 7.80
3 Dr. Jackson - Müller-Wuttke, Maren - 7.60
4 Wespucci B - Loew, Marion - 7.40
5 Donna Negra - Frieling, Sandra - 7.30
6 Rantanplan - Pröse, Stefan - 7.20
7 Deja Vous - Müller, Anja - 7.00
7 Don Balou - Schrödter, Jörg - 7.00
9 Dance for me - Kraus, Wenke - 6.70
10 Wild Spirit - Lundgren, Astrid Helene - 6.50
10 Dawinja - Müller Dr., Sabine - 6.50
12 Fürst Donnerhall - Hintsche, Andrea - 6.20
13 Day of Harmony - Brehmer, Thomas - 6.00
14 Saphira - Lucht, Kathrin - 5.90
15 Zahrino K - Lerche, Nancy - 5.60
16 Spirit - Schlöffel, Sibylle - 5.40
17 RS Tabaluga - Rosenlöcher, Stephanie - 4.90
Little Liberty - Hennigs, Nora - DNS
6-year old Dressage Horses
1 Damsey - Frahm, Steffen - 8.00
2 Rubens - Haupt, Alexandra - 7.50
3 Hilarius - Bormann, Susanne - 7.40
4 Clooney - Böhnke, Sascha - 7.40
5 Samba Hit II - Kohlschmidt, Maik - 7.30
6 San Hallo - Schrödter, Sabina -
7 Dallas - Constabel, Silke - 6.90
8 What a feeling - Osterwald - 6.70
9 Leviano - Wendeborn, Uwe - 6.20
Back to the 2008 Bundeschampionate index