2008 World Championships for Young Dressage Horses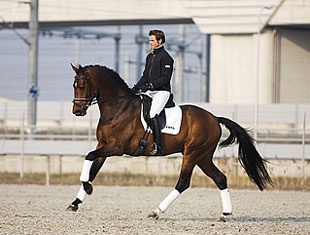 In The Netherlands, the first selection trial for the 2008 World Championships for Young Dressage Horses took place in Ermelo on May 20, 2008. The Dutch WCYH selection committee, consisting of Mr Ernes, Mr. Hamminga and Mr van den Hoorn
, selected seven 5-year olds and seven 6-year olds which can participate in the first WCYH training session and the next selection trial on Tuesday June 10, 2008, in Ermelo.
Several combinations expected to compete at the trial were absent. These combinations can aim for qualification again on June 10. Not yet selected, for instance, is Pavo Cup champion Vivaldo, which won the consolation finals at the 2007 World Championships under Mirelle van Kemenade. One of the big absentees at the selection trial was Hans Peter Minderhoud on the KWPN licensed stallion and 2007 Pavo Cup champion Vivaldi.
"The selection trial was a bit too soon for Vivaldi," Hans Peter Minderhoud explained. "He's back in full training at home but is behind in his training schedule because of colic surgery. I want to present the stallion in optimal condition and in agreement with the owners, we decided to leave him home a little longer and train him further."
The selected Dutch horses are:
5-year olds
Westpoint (Jazz x Michelangelo) – Emmelie Scholtens
Westenwind (Flemmingh x Contango) – Emmelie Scholtens
Winoa (Jazz x Flemmingh) – Bart Veeze
Wynton (Jazz x Matador II) – Madeleine Witte-Vrees
Welt-All (Diamond Hit x Negro) – Theo Hanzon
Wonderboy (Ramon x Nimmerdor) – John Tijssen
Wolly Ann (Stravinsky xx x Ulster) – Christa Laarakkers
6-year olds
Johnson (Jazz x Flemmingh) – Hans Peter Minderhoud
Vontango-B (Contango x Jazz) – Madeleine Witte-Vrees
Voice (De Niro x Rohdiamant) – Imke Schellekens-Bartels
Veni Vidi Vici C (Krack C x Amsterdam) – Marije Tromp
Venco (Rubiquil x Whinny Jackson) – Thamar Zweistra
Valentino S (OO Seven x Contango) – Isabelle van Zaanen
Citango (Contango x Jazz) – Nars Gottmer
Photo courtesy: Dekstation Westland
Back to the 2008 WCYH Index