2008 World Championships for Young Dressage Horses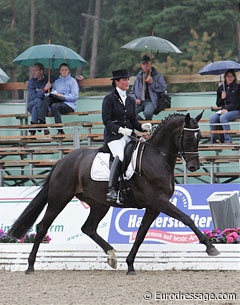 In Belgium, the selection trials for qualification for the 2008 World Championships for Young Dressage Horses have started. At national dressage show in St.Niklaas on May 1, 2008, twenty-four 5-year olds and six 6-year olds were entered for the qualifier.
The 5-year old division was won by Bjorn Vileyn on the Belgian warmblood bred Delano H, a Munchhausen x Wendekreis offspring. They scored 77.20% and were just ahead of André de Vlieger with Waldemar on 76.60%. Nick van Laer and the Belgian warmblood licensed stallion Dayano (by Dolany x Linaro) placed third with 74.40%.
In the 6-year old division, last year's Belgian WCYH representative Vicky Smits and Chinatown's Dream (by Pavarotti van de Helle x Furioso) won the class with 69,40 %. Nick Van Laer and the elegant Oldenburg bred mare Argentina (by Argentinus x Township xx) placed second with met 66,60 %. Larissa Pauluis and Lully ranked third on 66,40 %.
The Belgian selection criteria for the World Championships consist of three selection trials of which the two best results count. Candidates must compete at 2 qualifiers to be eligible for qualification. The second selection trial is in Flemalle (May 31, 2008) and the final one in Diepenbeek (June 28, 2008).
Back to the 2008 WCYH Index