2008 CDN Bad Salzuflen
The "talk of the show" was Hubertus Schmidt competing his new horse Franziskus (by Fidermark x Potsdam). Owned by Heinrich Kampmann, Franziskus was trained and competed up to Grand Prix level by Rudolf Zeilinger, Kampmann's in-house trainer.
The Zeilinger-Kampmann team recently split up and Heinrich offered the ride on Franziskus to Hubertus Schmidt.
This pair has only been training together for five weeks, and the horse still lacks trust in his rider during the test, but it would be wonderful if Hubertus Schmidt could manage to restore that trust. The elegant and talented Franziskus was schooled by Rudolf Zeilinger, who very obviously wanted too much far too early (the horse competed, with his nerves stretched to the limit, at another three-day-dressage event almost every weekend during the 2006 season -- when he was eight) and despite his enormous potential Franzisus "disappeared" in the lower 60% scores.
Now Schmidt has that potential in his competent hands -- here's hoping that he will think of the years that the horse still has in him, and be patient.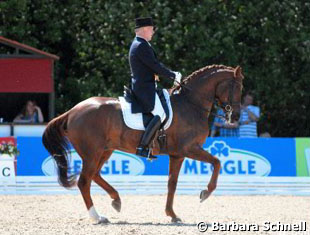 From the Medien Cup Upcoming Grand Prix Horse class in Hagen two weeks ago, thrown into a full blown Grand Prix test: Hermann Gossmeier pushes his young Favourit (Fidermark x Worldchamp) to the limit and gets the scores! They finished 7th in the Grand Prix (68.458%) and fourth in the Special (71.600%)
Photos © Barbara Schnell -
No Reproduction Allowed without Permission/Payment
Related Links
Scores 2008 CDN Bad Salzuflen
2007 Bad Salzuflen Photo Report
Photo Report 2006 Bad Salzuflen