2008 Bundeschampionate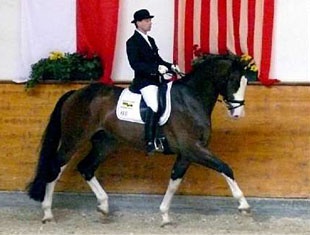 Nicole Casper and Birkhof's Denario were the winners and sole Bundeschampionate qualificants at the 2008 Remlingen Bundeschampionate Qualifier in Remlingen, Germany, May 10-11, 2008.
With only a few riders entered in the Bundeschampionate qualification classes, the judges marked conservatively and marked the winning ride with a 8.1
Casper and Birkhofs Denario (by Denaro x Fairplay) won the 5-year old Dressage Horse division and were the only combination to obtain an entry ticket for the Finals in Warendorf in September 2008. They were the sole pair that scored 7.8 or higher. Friederike Schulz-Wallner and Radcliffe placed second on 7.5.
The preliminary round for the 5-year old Dressage Horses was Uwe Schwanz aboard the 17.2-hh Baden Wurttemberger bred Rentagroup's Rudolph (by Rivero II). The pair scored 7.8. Schwanz has been riding the massive bay gelding since the autumn of 2007.
"He always works well with me, has a super disposition and very good basic gaits," Schwanz explained. He's very loving in the stable and always out for a treat."
The 6-year old Dressage Horse division was also won by Nicole Casper, but this time aboard the chestnut Baden Wurttemberger bred Birkhofs Meraldik (by Munchhausen x Caramel xx). They scored 7.6 and beat Martin Waldvogel on Danzaro (7.5).
Andrea Krauspe and the Sachsen bred Fantastic won the preliminary round for 6-year old Dressage Horses. Fantastic is a Farewell I x Adamo II offspring and competed at the 2007 Bundeschampionate. In Remlingen, the duo scored 7.90 and placed 0.3 points ahead of second placed Gerdi Rakelbusch on Wonapalai (by Westernhagen x Rubinstein).
Results
5-year old Dressage Horses - Preliminary Round
1. Uwe Schwanz - Rentagroup's Rudolph - 7.80
2. Constanze Rügheimer - Rhojan - 7.70
3. Alexandra Gashi - Canzler - 7.50
4. Rena Fraikin - Sir Arthur - 7.30
5-year old Dressage Horses - Qualifier for the Bundeschampionate
1. Nicole Casper - Birkhofs Denario - 8,1
2. Friederike Schulz-Wallner - Radcliffe - 7,5
3. Nicole Casper - Dave - 7,4
3. Uwe Schwanz - Rentagroup´s Rudolph - 7,4
5. Walter Wadenspanner - Fürst Scheurenhof - 7,2
6-year old Dressage Horses - Preliminary Round
1. Andrea Krauspe - Fantastic - 7.90
2. Gerdi Rakelbusch - Wonapalai - 7.60
3. Heike Hamel - Santos - 7.10
3. Uwe Schwanz - Stahlsmühle's Aljour - 7.10
6-year old Dressage Horses - Qualifier for the Bundeschampionate
1. Nicole Casper - Birkhofs Meraldik - 7,6
2. Martin Waldvogel - Danzaro - 7,5
3. Andrea Krauspe - Fantastic - 7,4
4. Nicole Casper - Allassio´s Boy - 7,3
4. Uwe Schwanz - Stahlsmühle´s Aljour - 7,3
Back to the 2008 Bundeschampionate index