2008 World Cup Finals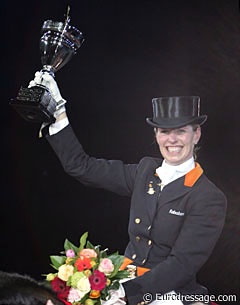 "To me this was top of the bill. This was a top final at a top venue with a top field of competitors doing top performances," Ground Jury President Jan Peeters complimented. Probably the highest standard field ever to compete in the 23rd FEI World Cup Dressage Final.
After the Grand Prix as a warming up test won by Isabell Werth, Anky van Grunsven scored her ninth FEI World Cup™ Dressage victory, her fourth riding her Olympic champion Salinero. Finnish Kyra Kyrklund took the third place aboard Max.
The tough battle between the titans Isabell Werth and Anky van Grunsven was not decided until the very last ride which was Anky's. Isabell Werth and the big chestnut Warum Nicht FRH had a great test. Their Freestyle is nicely choreographed and gradually builds up to an exciting climax. Remarkable extensions and half passes were rewarded with high marks. However, the pair left little room for improvement when they a mistake in the one tempi flying changes and hardly halted at the end, which brought the score down to 82,60%.
Anky van Grunsven and Salinero produced an impression of another kind. It was almost as if IPS Salinero was in a dimension of his own, simply doing his job to the music, calm and relaxed, easy going, easy moving. No shivers down the spine, but wet hands because of the harmony and stillness. The music composed by Wibi Soerjadi seemed to tone down the level of energy while increasing the overall impression of harmony. With a result of 85,20% the win was a undisputabl. "The improvement Hannes has made this season, makes me very satisfied. Today he was just not well prepared for the one tempi changes", reacted Isabell Werth.
"I changed my preparation and trained Salinero yesterday when a show jumping class was going on to help him get used to the noise. I had made a mistake on Thursday, as Salinero thought he was in a quiet place and overreacted to the crowd. It worked much better now," Anky commented. Both riders are looking forward now to the selections for the Olympic Games.
After her nice Cabaret-Freestyle Kyra Kyrklund finishes in third place. She said she could not have wished for more. The unlucky fourth position was for Dutch Imke Schellekens-Bartels and her mare Hunter Douglas Sunrise. The magic was not there this time as the mistakes in both the one tempi changes and two tempi changes brought the scores down to 77.40%.
Wonderful rides had already attracted the eye of the completely sold our audience of 11.000 before the last pairs went.
Danish Anders Dahl had done a great test with flying changes on the circle and difficult transitions like canter to piaffe, rewarded with a score of 71,55%.
American Courtney King showed 18-year old Idocus fresh and moving to his advantage but dropped down in the score as she by mistake performed a three double pirouette to the right. This made the mark for the pirouette go to zero and the mark for the well calculated risks at the artistic side of the sheet to five. President of the Ground Jury Jan Peeters commented afterwards: "We will advise the technical committee to make a rule change as this feels unfair. My colleagues here in 's-Hertogenbosch and I would rather see an error of course and a sanction for that, than punish in the calculated risks and technical marks. Only now this didn't help her anymore. Too bad."
For FEI Official International Judge Jan Peeters the 23rd FEI World Cup™ Dressage Final was the last big championship before his retirement. "I have loved every minute of it, but now there will be more time for my wife and our grandchildren left and probably for educating and teaching near home," he commented.
The Indoor Brabant Horseshow will do a bid next week to organise the 25th FEI World Cup™ Dressage Final in 2010. Next year the FEI World Cup™ Dressage Final will be in Las Vegas again as a combined Rolex FEI World Cup™ Final in Dressage and Jumping.
Text by Indoor Brabant (official press release)
Photo copyrighted: Astrid Appels/Eurodressage.com 
Back to the 2008 World Cup Index