2008 World Cup Finals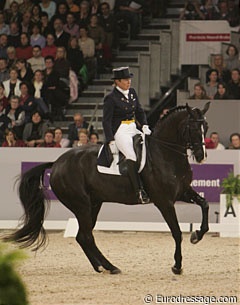 Kyra Kyrklund and Yvette Conn's Swedish warmblood gelding Max (by Master) finished third with a 78.150% score. A bit of a surprise as Imke Schellekens-Bartels and Sunrise just look that a tidbit more harmonious in their freestyle and their music was just delightful
, but they had mistakes so Kyra's placing was well deserved as well.
The lightness, relaxation, and general happiness Max shows in his work is a pleasure to watch and that contrasted with Sunrise, who swooshes her tail throughout the ride. Kyra and Max were strong in some of the pirouettes, which were ridden with one hand, but other pirouettes lacked in power and collection. The two tempi's could have been straighter and on one occasion Max lost his balance in the piaffe as he stepped on his own hind hoof. The half passes were lovely, the extensions showed a lengthening of the frame and the passage was even and well balanced.
Kyra Kyrklund has a special, different taste for music. Her freestyles are usually very dramatic but the kur she rode at the World Cup also has a comic undertone. Known as her "Cabaret" kur, the opening vocals welcome the judges and spectators to her ride: "Willkommen, bienvenue, welcome," a voice heralds. The insertion of "Money Makes the World Go Round" can also ironically point at the fact what a money-driven business equestrian sport and dressage are. Kyra has a great sense of humour!
When asked if Kyra was happy to place third at the top, she quipped, "You always have to be happy to sit here [in a press conference], especially with Isabell and Anky next to you. I never thought that I would beat them anyway."
When asked whether she finds it discouraging to be able to only fight for a third place, Kyra replied, "we normal people compete for third place and then down the line. We hope to win but we have to be realistic too." Max' improvement she traced down to one reason: "We both lost a bit of weight."
Imke Schellekens-Bartels has strong intentions to climb all the way to the top and she's not far off. Her scores are coming closer and closer to Anky's and she has already safely secured her number two spot on the Dutch Olympic team. At the 2008 World Cup Finals she finished fourth.
Her ride was lovely but had a few mistakes. There was no halt at the beginning, the passage was very even and clear but could have a quicker hind leg. There were mistakes both in the one and two tempi changes. The extended walk, however, was good, as well as the trot half pass to the right and the piaffe was superb. The most beautiful piece of her ride was the music. Soerjadi composed a delightful piano sonata which had a storyline and led to a climax in the end. On the background a guitar empowered the beat and rhythm of the whole. Her kur was captivating and gorgeous to listen to. Imke scored 77.400%
Next Page of the 2008 World Cup Finals Report
Back to the 2008 World Cup Index