2008 World Cup Finals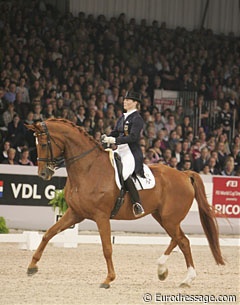 German Isabell Werth was absolutely going for the kill, signing this statement by winning the Grand Prix. However, beating the Queen of the Kur who competes on home turf as last rider to go in the class was a tough challenge Werth could only win by staying absolutely error-free
and by risking it all. Aboard her Hanoverian gelding Warum Nicht (FRH) she played an "all-in" and risked too much. A mistake in the flying tempi changes did her in and put her on second place, the bridesmaid position or runner up spot in the 2008 World Cup Finals.
Werth started out very strongly with an immobile halt, superior extended trots, and a super rhythm in the difficult passage half passes. There was small miscommunication in the transition from passage to extended walk, but the latter gait was performed to perfection: outstanding overtrack and true relaxation. The canter tour went really well until a mistake came into the one tempi series. Werth regrouped quickly and performed an excellent final piaffe-passage. The end halt was a bit awkward as Warum Nicht was still focusing on the passage and ended up halting in quite a stretched position, yet square.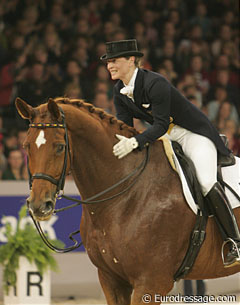 Isabell's music is lovely. "Land of Hope and Glory" accentuates the clear rhythm of the horse's piaffe and passage, Edgar Elgar's "Pomp and Circumstance" musically empowers the trot tour and the canter music is highly dramatic, but sounds light and fresh. This freestyle is one of Isabell's older kurs, previously used for Apache OLD, but it suits her 'Hannes' perfectly and she can ride the choreography on key. They scored 82.600%
Though she had to give her 2007 earned World Cup title back to Anky van Grunsven, Isabell was not disappointed about her performance. "No. I'm really not," she replied. "I'm happy and satisfied with Hannes today. Thursday he was really good and today he was better. I was too quick to come into the one tempi's. He was a bit surprised to go in to the one tempi's - perhaps he was not prepared well. But I was super happy with this weekend. He has improved as a horse; his piaffe and passage have improved. I have a very good feeling to go into the green outdoor season."