Eurodressage F.O.C.U.S.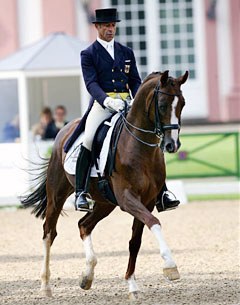 Chris Hector of The Horse Magazine interviewed Jonny Hilberath about his dressage career and his successful students. Read this lovely interview here:
One of the great strengths of the German dressage scene is the depth of training talent. It's not just the publicly acclaimed super stars but the solid base of 'journey-man' trainers, that gives the dressage scene its strength.
One such trainer is Jonny Hilberath from up near Hamburg. Jonny was thrust into the limelight at the most recent WEG in Aachen when his Mexican pupil, Bernadette Pujals amazed the world riding her Weltmeyer stallion, Vincent. The pair were 10th in the Special and in the Kür – and for many serious dressage fans, their happy partnership was one of the highlights of the WEG.
Time then to find out a little more about Jonny Hilberath – Dressage Trainer…
"My background really had nothing to do with dressage. My grandfather, who I never met, had racehorses. So it is just my grandfather and I who are infected with the horses, but no-one else." "The plan from the beginning was that I should do something with design or architecture, but horses came along and I was very soon a professional and that was it."
"I started out in what we call 'country riding'. You do everything – club riding, eventing, a bit of jumping, a bit of dressage. So I started in this very basic way…"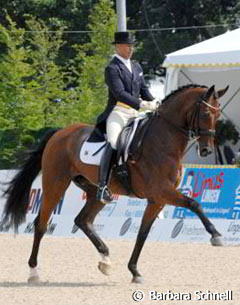 "Later I met Rosemarie Springer, and she changed my life. I was training with her for four years, I did my bereiter with Rosemarie. Through her I met Willi Schultheis and worked with him a few times."
"Later I was riding quite a bit with Herbert Rehbein – and the rest I got from the horses."
And certainly the horses seemed to have helped. Before long Jonny had won a German professional's title.
"My first Grand Prix horse was a Russian horse, Olympus. He was a very nice horse but my first successful Grand Prix horse was Delicatesse, also a Russian horse – with him I won the German Pro Championship."
"I don't know how many Grand Prix horses I have trained since then…"
You train in the classical way?
"Yes. I try to make the training fit to the horse. I care a lot about the back and body swinging. If you pull a horse together then you won't get it to swing, I think I am a classical rider."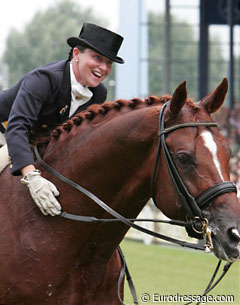 Do you think people are starting to think a little more about riding correctly and not so spectacular?
"I think it was never lost. Ever since people started sitting on horseback there have been different styles and philosophies of training the horses and riding the horses. What is classical? It is not so much a style, more that you stick to rules, that you listen to what the horse gives to you as a rider. None of us has created the style – you have to understand the mechanics of the horse, and if you respond to that, then actually you create the style to fit that horse."
You've been successful training riders from far flung countries – at the WEG in Aachen you had one South Africa – Natalie Hobday riding Wenckstern, and one Mexican, Bernadette Pujals riding Vincent, and they were both successful, both on chestnut stallions by Weltmeyer…
"Exactly. I knew Wenckstern all his life, and then I saw him in Grand Prix when he was nine, with another rider. I thought, that's a horse I'd like to have in my stable. A couple of years later, he joined me, and I am very glad to have him. He has bred some very nice offspring as well."
And your Mexican rider, she was the highlight of the WEG for many people…
"It was also the highlight for me. To be very honest, it was a little bit unexpected because the preparation was not ideal. I got the horse about two months before the WEG, but then the rider came very late, just ten days before Aachen. That was not ideal… but what happened was for me a very big success."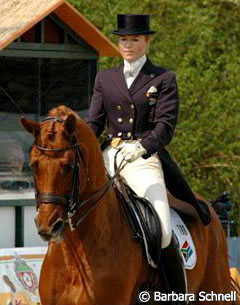 But she must have trained the horse pretty honestly in Mexico to be able to come and do that…
"The horse was here two seasons before, so the rider was with me for two months each year for the two years leading to the WEG, then I used to go three or four times a year over to Mexico to do clinics, so we had regular contact. But she trained the horse all by herself, for sure we worked together more on suppleness and rideability, but she did the first Grand Prix all by herself – she did very well training that horse."
How many horses do you have in work? 
"Thirty six at the moment. It's actually not what I wanted but it just happens, I've got a waiting list, it's crazy at the moment."
Do you spend most of your time on the ground or most of the time in the saddle?
"I spend more and more time on the ground. I'm actually a rider, that's what I've always wanted to do with my life – but I must say in the last ten years, I am more a trainer. Since I've had my Grand Prix horse, Fariano, then the last three years I've been riding more, competing more. Before Fariano I was very busy going around training, but now it is a bit parallel with training and riding."
Do you do much work from the ground?
"Not so much. I will help them to understand with the work from the ground if I need to, but my philosophy is that the horse should understand from the rider's aids. I combine it, but I am not the guy who works just from the ground, I'm not a whip rider. I always try to ride so well that the horse understands what I am asking. It is better if the horse reacts to your seat and your leg – I always want to have a lightness so my riding can be light, I am not interested in torturing horses." ?
Text by Chris Hector of The Horse Magazine
The original story can be read here
Related Links
Hilberath at the 2007 CDI Lingen
Hilberath at the 2005 CDI Saumur
Natalie Hobday Qualified for the 2006 World Equestrian Games