2007 South East Asian Games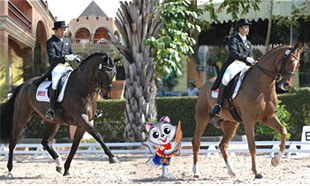 Australian equestrian journalist Chris Hector of the Horse Magazine attended the 2008 South East Asian Games in Thailand, December 6 - 15, 2007, and wrote a beautiful report about the progress the Asian Dressage riders showed at these Games.
The advancement of the sport in South East Asia can be attributed to the riders training and buying horses in Europe. The following story appeared in the February 2008 issue of the Horse Magazine.
I guess the first thing you have to say is how dramatically the standard of dressage has improved in South East Asia. I last attended a SEA Games in Thailand, in Chiang Mai, back in 1995. They were riding elementary tests on horses that - at least in some cases - did not look well. Mariette Withages told me that when she first judged in Bangkok, some years earlier, she refused to let any of the military horses compete, so poor was their physical condition, and was told that she was not taking into account 'cultural' factors. Culture? Yes, the Thais believe in reincarnation, and why should they take care of someone so bad that they come back as a horse! Mariette must have been reading my mind, and with a wicked grin said 'see you will probably come back as a dressage judge!' I remain unconvinced that I've done anything that bad.
In 1995 the riders were riding borrowed horses, most of them Aussie cast-offs, and where the riders were coached at all, they were generally 'helped' by the worst sort of failures, poseurs and crooks, with one notable exception, the winner, Vic Barba was coached by a young Ulla Salzgeber. Now there are some very serious trainers out the back, including Swiss Olympian, Daniel Ramseier, and Australia's own, Brett Parbery.
The 2007 SEA Games were held in the perfect setting of Horseshoe Point, one of those crazy visionary dreams come true for a pair of Thai twins, Chaikiri and Chainarin Srifuengfung, who fell in love with the noble Lusitano horse, and came back to their Thai homeland to build a wonderful Portuguese inspired resort. Its heart is the horses and the horse show in the handsome indoor school with its walls lined with photos and paintings of the great horses and riders. On one wall, a tribute to the legacy of the man who inspired so many riders with a taste for the classical – including the Thai brothers - Nuno Oliveira.
The outdoor arena for the first competition of the Games is surrounded by lush tropical vegetation, and there's even a nice cool breeze to keep us all comfortable. The setting is simply world class.
The Ground Jury is handsomely accredited, with a couple who have judged at previous Olympics, Australia's Mary Seefried, and FEI supremo, Mariette Withages, and one of the judges at next year's Games, Minako Furuoka – joined by those two intrepid travellers (and serial visitors to Australia) Alison King, from Hong Kong, and Kiwi, Jan Bird.
High Standard in Dressage As Asians Train and Shop in Europe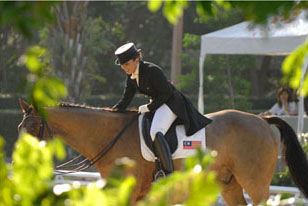 Right from the start, the standard is high. First horse in a handsome, sweet chestnut, Royal Flush, ridden by Nuttada Inchat. The test is the FEI Young Riders Test – almost a Prix St George – and the gelding finds the changes a bit of a challenge, but still it is a very pleasant show from a very elegant rider and a sweet horse. 53 is way mean. Twenty-year-old Nuttada purchased the Danish bred gelding from the stables of her Swiss trainer, Daniel Ramseier, and has been working with him for the past four years, with the aim of competing at the SEA Games – she's made it!
And Nuttada is not alone taking time to train in Europe, the next rider, Malaysia's Quzandria Nur has spent the past two years in Holland training with Anky van Grunsven, and the Dutch horse she is riding, Lewes, is a very classy vehicle. And Quzandria has learnt well from the world champion, she sits very elegantly indeed. The horse gets a little tense in the collected walk but the demi pirouettes are super, as are the changes. They score 61.87.
It's at this point that I realise how nice it is to be sitting ringside taking notes at a horse event after our enforced competition drought of these recent EI months…
It's only later that I get a sheet with at least some of the horse's breeding on it, but the next horse has Hanoverian 'W' written all over it, and not just because its name starts with a W and it's orange. Wyatt Earp turns out to be by Wolkentanz, and the gelding is very nicely ridden by Indonesian team member, Larasiti Grading, and yep, she has been Germany too, training with Ralf Müller in Stuttgart. Müller was there to coach Grading at the SEA Games.
Putri Alia Soraya Reigns
The best score in the Teams Competition goes to the diminutive (that means smaller even than Emma Armstrong who is at Horseshoe helping Heath Ryan help the Thai eventers) Putri Alia Soraya, riding for Malaysia on Odurin, an 11-year-old Dutch gelding (by Junior who was ridden by Anky in the small tour). And yes, Alia is based in Apeldorn in Holland, training with Inge and Rien van der Schaft – she's got the London Games in her sights.
It's a breeze interviewing Alia, since she has done her time as a sports reporter and TV interviewer:
"I'm comfortable on both sides of the microphone…"
So you won't freeze on me?
"I've done sports presenting and for me it is natural, but some people can't do it on camera, even though in real life they are fine. The worst thing is when you are stuck with someone who gives one word answers and you have to drag it out of them."
You've got a long-term plan with your horse?
"We're hoping to start Grand Prix in a year and a half. My long term plan is to go to the London Olympics, but of course that all depends on sponsorship and support."
That would be great to be the first Asian dressage representative at an Olympic Games?
"It would, Quzandria is trying already. I think we would have a better chances as a team really, but my plan is for myself."
And you made a conscious decision when you went to Europe not to go to one of the superstar stables?
"Yep, I was looking around. The Germans have a bit of a reputation for being cut throat, when they hear an Asian name in Europe they always think they can milk you for a lot of money. I didn't want to be in that position where they take a lot of money, but don't give back as much. When we had Rien van der Schaft doing clinics in Malaysia in our preparation for the Asian Games in Doha in 2006, I thought, okay I don't really know his name – he is a Grand Prix rider – let's see how he works. At that time I was looking for a place to send my mare, and we just worked really well with both horses, so it was a pretty easy decision to make. Okay, I'll send her to you, and it went from there. I work with both Rien and his wife, but more so with Inge. Both of them give me different perspectives. It's a small stable but they are all very good riders, they train horses and bring them up – it's not really a dealer's stable. It's not professional professional, not one of those yards where they are showing clients around every day. They are more a working stable."
You get enough competitions?
"Holland's pretty small so you drive two, three hours and you are at the show. We've been to Falsterbo and Hamburg, into Belgium – also the local national shows."
How long have you had Odurin?
"I got him in November last year, just before Doha, but we didn't know each other enough to do a test immediately, so we waited and I used my 22 year old gelding, Chagall Junior, he still did a good job, we got 61, 62%. He's a Swedish Warmblood and he was the horse Wan Zaleha rode at the Asian Games. Since then I have done the KL SEA Games, the Asian Games in Korea and Doha with him, so he's worth every penny we paid for him."
And your mare is pretty fancily bred – Sandro Hit / Rohdiamant?
"She's seven now but we've put her in foal at the moment to Don Romantic."
This is such a nice warm environment in Asia, and Holland can get pretty cold and wet and grim at times…
"It is a bit cold.'
And the food is not very spicy…
"No, but I do have an aim, so you have to put all those other things aside. I am taking a break for Christmas then I go back in their Spring to start over again for the summer shows. It's good that Inge and Rien both ride my gelding and bring him up a bit, it's both of us that are growing. I have a lot of learning to do, and if it is just me riding him, he may not progress as fast as he can. He can do one times changes, we've been training a little bit with piaffe and passage, but more so trying to establish the basic movements. I've been based just under a year in Holland and I've learnt so much. The learning curve is just up – sometimes it plateaus – then it goes up again. But that's riding and horses."
"I see it on a day to day basis and I sometimes I say to myself 'why haven't I improved?' but I don't always look at the big picture and Inge and Rien help me see that – they can see in a week, already I am sitting better, or my shoulder in has improved, transitions, or my legs. When I go from day to day and think 'oh I didn't do such a good job today', I get a little down, but they are always positive and supportive, building me up. But they are not the kind of people who say oh you look FANTASTIC! That's not a help, if people pull wool over your eyes and keep telling you how good you are. I have a pretty good idea of where I am and where I need to be. Just taking baby steps…"I for one will not be in the least surprised if those baby steps take Alia all the way to London in 2012.
Today Alia and Odurin lead the Malaysians to gold with a score of 66.76 – just in front of another Malaysian, Qabil Ambak on Dexter. Qabil is better known as a jumping rider, and has recently topped the local Asian League World Cup standings, but when the Malaysians were short of team members, he went out and bought the Oldenburger gelding Dexter and joined his sister, Quzandria in the team.
Second place to the Indonesians, headed up Jeanne Lukito on another very very flash Dutch gelding, Narco, joined by the pair of chestnut Hanoverians, the mare, Celine, ridden by Lukas Ibrahim, and Larasati Gading's Wyatt Earp.
Bronze to Thailand led by Chalermcham Votviriyapanit and yet another chestnut Hanoverian, Waldzauber, along with Karittipoom Kreepkrang on the Holsteiner, Care For Me, and Atchakorn Phromyothi on the black Hanoverian stallion, Deauville II.
Qabil Ambak Turns to Dressage One Month Prior to the Games
In the first of the Individual competitions, Qabil grabs the lead on Dexter, with his sister, Quzandria, second, and Alia and Odurin, third. But because of one of the dumbest sports rules in existence (and believe me we have a fair number of them in equestrian sport), Alia – who has a genuine chance of taking the individual gold with a good show in the Kür – does not progress to the final round because under the Asian Sports Federation rules, only two riders from any one nation can progress. Hello? We've had the teams event – this is now an individual competition and it is outrageous that a rider should miss out on even competing for a medal because of where they were born!!!
So it's brother V sister for individual honours. Qabil is fairly relaxed about it all:
You've mainly been a showjumper in the past, when did you decide to go for the dressage medal?
Qabil laughs… "About a month ago."
"After the Asian Games I wanted to retire from dressage and concentrate more on showjumping but we didn't have enough riders for the team, so I decided to ride. I just got this horse a month ago from Germany. He was ridden by Holga Finken. I rode him about 15 times before I came to the SEA Games. I still have to get to know the horse a bit more, to know the right buttons to press. Yesterday was a bit better than the first day, and hopefully today will be better."
You have to beat your sister though?
"That will be a tough fight, she is riding well and her horse is going well."
And have you brought a good enough horse here to win the showjumping?
"Hopefully, if luck is on our side. I got her a year ago, before the Asian Games. I competed her this year in the Asian World Cup, she won three qualifiers, and the League. She competed in Europe with a Danish rider, he did Nations Cups and World Cup with her. She was known as Polly, but I changed her name to Parvina – an Arabic name."
Where are you based these days, Europe or Malaysia?
"Before I was based in Europe for almost seven years, now I am back in Malaysia, and starting to work with my Dad, so I am slowing down on the riding, and concentrating on competing in the Asian region… maybe sometimes going to train in Europe."
I notice that the standard in Asia is getting higher and higher in equestrian sport?
"It is, even at the last Asian Games, the standard was really high. I think people are getting good horses, and to compete you need better horses, so the standard keeps going up. Before in Chiang Mai we were doing Elementary, at the KL SEA Games it was Advanced, and now we are doing Prix St George… and the Freestyle to Music, it's great."
Qabil Ambak Wins Individual Gold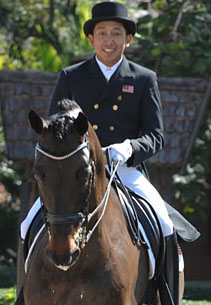 There is a big crowd, and a full set of VIPs for the final round of the dressage – the freestyle to music. In the background, balloons from the Pattaya Balloon Festival, float slowly by.
Once again the work is of very high standard. The first to really shine is the Thai rider, Chalermcharn Yotviriyapanit (who also happens to be the Assistant TD for the Eventing) riding Waldzauber. The elegant gelding is tactfully ridden, the work is relaxed and flowing and well deserves the score of 66.20.
With the pressure of the Teams Competition off their backs the riders are relaxing and riding better. Qabil Ambak's music has a complex rocking beat, but his horse Dexter just looks cool – lovely and unhurried, and Qabil is going better with each test he rides. A score of 70.15%, can his little sister top that?
But first Larasati Gading and Wyatt Earp are putting up a bold challenge, super big trot, wonderful ground-covering canter – 65.3%
Quzandria Nur's music is great, really spooky and atmospheric and she seems determined to remind her brother that he is a showjumper, while she is the dressage rider. Everything is going brilliantly until there's a little break in the extended trot on the diagonal, and the walk does get a bit tricky at times. A good score, 67.25, good enough for silver.
The announcer informs us that the final scores and medal standings will be announced after the scorers have finished totalling the results from the two individual competitions. This would have sent the bronze medal home to Indonesia with Larasati. But no, the organizers find a rule in the competition schedule that says only the results in the Kür count, and Thailand's Chalermcharn Yotviryapanit gets the third gong behind Qabil and Quzandria. As my mother-in-law would say: 'fancy'.
Text by Chris Hector - Photos by Roz Neave for the Horse Magazine
Related Links
Jun Sang Choi Wins 2006 Asian Dressage Champion's Title
Scores 2006 Asian Games in Doha