What's Happening in the Dressage World?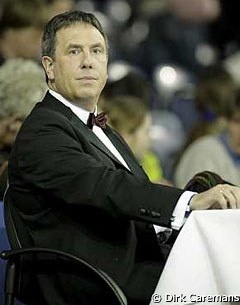 A lovely new foal has been born at British world class performance rider Nicola Mc Givern's yard in England. The Matcho AA damof the Grand Prix horse Walero gave birth to a gorgeous Hotline colt. Meanwhile, Walero recently returned to competition winning for the first time out in 2 years  with 72.8%. Nicola's new Grand Prix mount Active Private Dancer was 2nd with 71.3%."I have to say it was very emotional being out on him again especially as the test felt so easy for him and he felt better than ever!! Rather than leaving the arena at free walk on long rein I left hardly able to see as my vision was blurred with tears!," Nicola told Eurodressage.
Wim Ernes has succeeded Frank Jespers as chairman of the selection committee for the Dutch young horses that will compete at the World Young Horse Championships in Verden. The committee now consists of Wim Ernes, Johan Hamminga and Gert van der Hoorn.
During the CDI Bremen, Heinrich Kampmann has been awarded with the German Riders' Cross in Silver. He was honoured for his 20 years of dedicated service to the dressage sport. He was the initiator of the Kampmann Cup series and has been a sponsor of many equestrian events, including the CDI in Lingen.
The 2008 CDI-PJYR Youth Dressage Festival will take place at a different location than at its old venue in Wouwse Plantage, The Netherlands. Organizer Theo de Vries came to an agreement with Adri Gordijn to have the 2008 Youth Dressage Festival hosted at Stable De Ijzeren Man in Weert, The Netherlands. Riders from 15 countries are participating and the Wouwse Plantage location could not guarantee good footing for so many combinations. The event will now take place in Weert, May 15-18, 2008.
We read a lovely story on Dressagedaily about Katherine Bateson Chandler's new horse Rutherford, a KWPN gelding by Krack C. She says that he's "the first horse anyone has ever bought for me. That was really exciting. It makes me cry talking about it." Jane Clarke purchased Rutherford for Bateson, who has been competing Robert Dover's former riders Kennedy, Rainier, Collo and Aperol the past few years, horses all owned by Clarke. Read the endearing story about Rutherford at Dressagedaily.com
Kim Boyer of Hampton Green Farm (based at Fruitport, MI and Wellington, FL) has announced that Courtney King will take over the reins on Grandioso III, one of Hampton Green Farm's breeding and performance stallions. Boyer specializes in breeding P.R.E. (Pure Spanish Horses) for dressage competition in America. Grandioso III (Adelante out of Grandiosa) is a 16-hand, nine-year-old, bay P.R.E. stallion imported from Spain in 2003. He has been competed by Pati Pierucci through Prix St. Georges. Boyer explained that Pierucci has elected to live full time in Wellington so that her children can attend the same school year-round rather than rotate semesters in Michigan, and due to family obligations, she is not be able to travel with Grandioso. "It was a tough decision for Pati, but it's what she wants to do," noted Boyer. "That predicated the idea that someone else would be interested in riding the horse who could travel with him and take him where he needed to go. The initial contact was made with Lendon Gray, who saw the horse and previewed him for Courtney and then recommended him to Courtney. Since then, Courtney has been riding him and is quite enthusiastic about him!"
New test riders have been hired by the KWPN to ride the stallions that participate in the KWPN Stallion Performance Test in Ermelo, The Netherlands. Routiniers Gerie van Huigenbos and Mas van Veenendaal are the old timers of the test riders. New riders are Ronald Koopman, Arthur Verbroekken, Kim Evers, Tamara Danning and Goffe-Nil van der Zijden (The latter is the young business partner of Mrs Emmy De Jeu, owner of Edward Gal's top horse Sisther de Jeu). 35 stallions were delivered on Wednesday March 12 for the 2008 KWPN Spring Stallion Testing.
Australian Grand Prix Riders pay attention! It has now been confirmed that CDI Lingen (GER) to be held on 29 May – 01 June 2008 will be the second of the Australian Olympic Dressage Nomination Events. CDI Wiesbaden (GER) to be held on the 8 – 11 May 2008 was previously named as the first Olympic Nomination event.
Hanoverian licensed stallion Donatelli (by Donnerhall x Pik Bube) has been retired from competition and sold to Canada. His American owner Scot Tolman sold the black stallion to Armin and Jennifer Arnoldt of Dreamscape Farm in British Columbia, Canada. Donatelli was competed by Jim Koford. In the summer, the stallion jumped out of his paddock, hit a hole, fell and broke a rib. Though he recovered from his injury, the 14-year old stallion was retired. He now stands at stud in Canada.