British Dressage News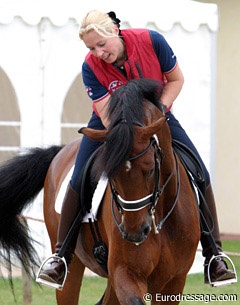 Fiona Bigwood has lost her number one Grand Prix horse Mr G de Lully. The Swedish bred gelding had to be humanely put down after the bay incurably broke his fetlock bone yesterday. Mr G de Lully was turned out in the sand paddock where he accidentally shattered his fetlock bone.
Despite wearing boots and bandages, Mr G sustained seven fractures between the hoof and fetlock.
"We are absolutely devastated," Fiona Bigwood and her partner Anders Dahl told Eurodressage. "You spent all those hours, years training this horse and get such a great bond with him. We had a truly special relationship with him."
Mr G de Lully, a 1993 Swedish Warmblood gelding by Gauguin De Lully out of Acacia (by Ambassadeur), and owned Fiona Bigwood were member of the British Dressage Team that competed at the 2005 European Championships in Hagen, Germany, and at the 2007 European Championships in Turin, Italy. Fiona was preparing Mr G for team qualification for the 2008 Olympic Games in Hong Kong.
"These horses give us so much in their lives and I just want to return some of their love back to them. Mr H is a horse that was so special to me and we were so in tune with each other," a bereaved Fiona said. "His loss is like losing a member of my family and my heart feels broken. I hope he rests in peace."
Related Links
Dressage Couples: Anders Dahl and Fiona Bigwood
Fiona Bigwood Back to Business after Baby Break
Mr G de Lully to be Competed by Anders Dahl
Mr G de Lully Sold to Fiona Bigwood