KWPN Breeding News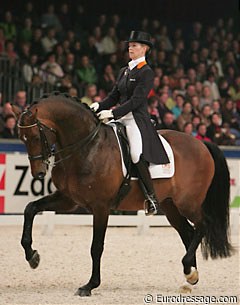 The KWPN licensed stallion Krack C (by Flemmingh) has been retired from competition. In an official ceremony at the 2008 KWPN Stallion Licensing in 's Hertogenbosch, The Netherlands, Anky van Grunsven and Krack C symbolically performed Cees Slings' renowned Tango Kur
one last time, though some miscommunications between the stallion and the rider took place. Krack C will not longer be competed, but the stallion will remain to stand at stud.
"I think it's great that I had the opportunity to ride such a wonderful stallion. Even though he wasn't focused on me tonight, he has showed his qualities to the breeders one more time. He has earned a nicer, more quite time now. He has absolutely deserved this. You have to stop at a highpoint in your career and this is his highpoint," Van Grunsven said.
The bay Krack C has been one of the most successful KWPN dressage horses on the international show scene. Under Anky van Grunsven, Krack C was always the second in line to Bonfire and Salinero to win trophies and claim ribbons. The last few years, Krack C suffered from some injuries and competed at a scarce few shows, though always with success.
The gorgeous Krack C has nine licensed sons with the KWPN studbook, two in Germany and one with the NRPS society.
Photo copyrighted: Astrid Appels/Eurodressage
Related Links
KWPN Stallion Krack C to Anky van Grunsven
Winning Grand Prix Debut for Krack C
Krack C Comeback with a Victory