2008 Olympic Games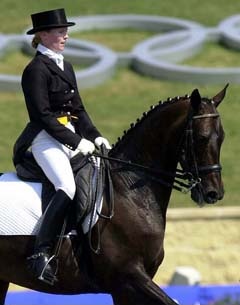 Three nations, Japan, Australia and New Zealand are contesting two team places for the 2008 Olympic Games in Hong Kong. The nation who doesn't win a team place will have the opportunity to contest an individual place from the World Dressage Rider Ranking List.
Australia is holding its qualifier on February 4 at the CDI-W Sydney while the Japanese have their selection trial in Cannes, France on January 31. New Zealand will be the last nation to compete.

Dressage New Zealand has selected a team to represent New Zealand in the Asian Pacific Regional Qualifying Competition to be held at Tielcey Park, Palmerston North on 7th February 2008:
Kallista Field - Soda (Pahiatua) 
Our first ever dressage Olympian 29yr old Kallista has the ride on Soda, the 16.1hh Uraeus gelding previously competed by her mother Sharon. This combination were runners up to Hartstone & Landioso at the Zilco North Island Championships. Kallista has her imported Sandro Hit stallion, Salutation, and her home bred Weltmeyer mare, Waikiwi both competing successfully at small tour level with a single-minded ambition to again represent NZL at the highest level
Jody Hartstone - Landioso (Raglan) 
Jody (32yrs) is the current Zilco North Island Grand Prix Champion on her Holsteiner partner, the dark brown stallion Landioso. This combination qualified for the 2006 World Equestrian Games following a very successful tour to the Sydney CDI where she was also winner of the Prix St Georges International Derby. Jody also enjoys playing polo, watching basketball and eating banoffipie washed down with a glass of Matua Paretai Savignon Blanc 2006
Nicole Magoffin - Jaybee Anzac (Queensland) 
29yr old Nicole is based at Mt Nathan near the Gold Coast in Queensland and rode for the NZ team in Sydney on her 16.1hh brown Australian warmblood, Jaybee Anzac. Nicole also represented NZ in the International PSG Derby at the Sydney CDI in 2007. Nicole will be at the Palmerston North venue to support her team mates.
Bill Noble - Vincent St James (Waingaro) 
At 57yrs, Bill is the master of the team with a wealth of experience training and competing Grand Prix horses. Based at the magical Brooklands Park in the Central Waikato, Bill has two horses entered. Vincent St James, the 16.2hh Wharf's Son TB X co-owned by Sally Elwell who holds both the current NZ Grand Prix Champion and Horse of the Year titles and Dean Hewetson's BJK Concord by Catango II.
Nicole Magoffin will compete in Sydney The remaining New Zealand based riders will compete at Tielcey Park, Palmerston North on 7th February.
Once the successful nations are determined, National Federations will have the opportunity to select riders for their Olympic team. These may be entirely different from the team of riders who qualified the nation. The qualifying event qualifies the nation, but all riders to be considered for Olympic Games participation must also earn two Minimum Eligibility Scores (MES) of 64% in the Grand Prix Test. These must be earned at different international events from two FEI O judges from a two nations other than that of the rider.
Because only two team spaces exist for Olympic competition and three countries with riders qualified to do so, regional qualifiers must be staged by Japan, New Zealand and Australia. Originally the qualifier was planned for Sydney late last year but an equine influenza outbreak resulted in each country having to stage its own qualifier with the same judges traveling to all three competitions.
The judges are Mariette Withages (Belgium, current Chairman of the FEI Dressage Committee), Dieter Schuele (Germany), Mary Seefried (Australia), Jan Bird (New Zealand) and Minako Furuoka (Japan).
Photo: Kallista Field
Back to the 2008 Olympic index