2008 Olympic Games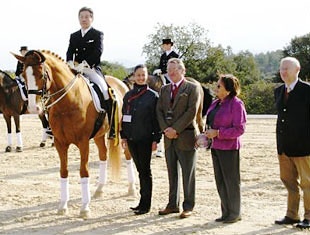 The Japanese Hiroshi Hoketsu has won the Regional Dressage Team Assessment in Cannes, France, on January 31, 2008. Aboard his chestnut gelding Whisper, Hoketsu scored 66.917% and placed at the top in a field of five competitors.
The entire Japanese team and one Australian dressage rider were invited to ride in this Dressage Team Assessment. Japan, Australia and New Zealand are the three nations still contesting two team places at the 2008 Olympic Games in Hong Kong. The three other Australia team riders are riding at their assessment in Sydney, Australia, February 3-5, 2008. The New Zealand riders can obtain a team score at the Asian Pacific Regional Qualifying Competition to be held at Tielcey Park, Palmerston North, New Zealand on February 7, 2008.
So far, Japan is the only nation with a team score. In Cannes, their average percentage achieved is 64.931% with a total of 194.792 points.
Results Regional Dressage Team Assessment in Cannes
1. Hiroshi Hoketsu - Whisper - 66.917 (Japan)
2. Mieko Yagi - Dow Jones - 64.167 (Japan)
3. Yuko Kitai - Rambo - 63.708 (Japan)
4. Maree Tomkinson - Lanzaro - 63.708 (Australia)
5. Hiroyuki Kitahara - Why Me - 61.875 (Japan)
Back to the 2008 Olympic Index