2008 VSN Trophy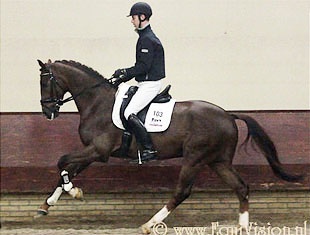 Zaragoza became the winner of the 2008 VSN Trophy in Ermelo, The Netherlands, on Saturday January 12, 2008. The VSN Trophy is a competition for three year old horses which are judged on conformation, quality of paces, and rideability.
In the first round, judges Ab Barneveld and Jan Zandman judged the youngsters on conformation. They placed Zelly at the top of the leader board. This Son de Niro mare scored 173 points and was proclaimed Conformation Champion. She beat second placed Zanero by the Hanoverian San Remo (157 points). TC Zidane (by Rhodium x Falco) ranked third with 155 points.
In the second round dressage riders Kirsten Beckers and Alex van Silfhout judged the horses on their gaits, rideability, and general impression. Beckers and Van Silfhout were most impressed by the quality of Zugspitze (by Rhodium x Lancelot) and Zeno AKW (by Rhodium x Jazz). They gave a score of 415 points to both which ranked them first provisionally.
In the final round guest judge riders Hans-Peter Minderhoud and Wayne Channon determined the final winner. They rode the four highest ranked horses from the second round and selected Zaragoza as winner, scoring him 85 for walk, 90 for trot, 85 for canter, 90 for rideability and 88 for general impression. This totalled to 438. Minderhoud and Channon also scored the horse 90 points after having ridden him themselves. This score combined with Beckers and Van Silfhout's total mark of 395 points, turned Zaragoza into the winner of the 2008 VSN Trophy.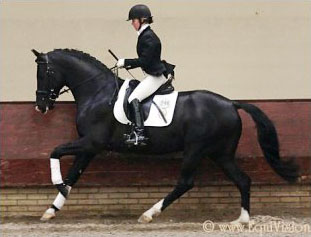 Zaragoza (Jazz x Voltaire) is formerly known as Zidane and is bred by J. van Wanroij from Haps, The Netherlands. He was approved as stallion at the 2007 KWPN Stallion Licensing but did not make the stallion performance test. He sold for 120,000 euro to Tim Coomans at the 2007 KWPN Select Sale following the licensing and is currently owned by Nico and Jeroen Witte and Tim Coomans
The reserve champion is TC Zidane, also owned by Tim Coomans. The guest judge riders also scored him 90 points for his rideability, but this score added to the marks in the second and third round, gave Zidane a total of 489,0 points. Zugspitze got 75 points from the guest judge riders and finished third with 485,0 points.
Photos copyrighted: Equivision.nl
Conformation
1. ZELLY (by Son de Niro) - 173
2. ZANERO (by San Remo HANN) - 157
3. TC ZIDANE (by Rhodium) - 155
4. SAMBEZI (ex Zambesi) (by San Remo HANN) - 153
5. ZAPHRIO (by Rhodium)- 151
6. BEUKENVALLEI'S ZADINUS (ex Zadinus W) (by Padinus) - 150
7. HEXAGONS ZAPPORO (by Tango) - 149
8. ZIRON L (by San Remo HANN) - 149
9. ZALZATIME (by Painted Black) - 148
9. ZORRO (by Sunny Bou OLDBG) - 148
Presentation Under Saddle + Guest Judge Rider score
Judged by Beckers, Van Silfhout, Minderhoud and Channon
1 ZARAGOZA (by Jazz) --- 90 -- 506,5
2 TC ZIDANE (by Rhodium) --- 90 -- 489,0
3 ZUGSPITZE (by Rhodium) --- 75 -- 485,0
4 ZENO AKW (by Rhodium) --- 70 -- 471,5
5 TC ZERLEONE (by Kingston)
5 ZAMORA (by Krack C)
5 ZEPHYR (by Jazz pref)
Related Links
Game Boy Wins 2004 VSN Trophy
VSN Trophy Winner Valley Sold to Belgium