2008 Olympic Games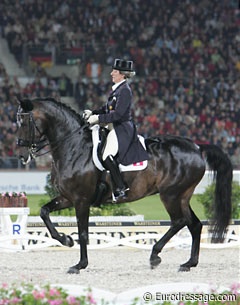 Swiss dressage team anchor rider Silvia Ikle has announced that she will not be competing at the 2008 Olympic Games in Hong Kong, China. Ikle does not want to make her top horse Salieri CH nor her second horse Romario suffer the strenous conditions
of travelling to Hong Kong and competing there in extreme heat.
"After long and careful deliberation and after having reviewed the results of the test event in Hong Kong in August 2007 (eventing), I have decided that the horses that I own, Salieri and Romario (if he qualifies for the Games), will not participate in the 2008 Olympics in Hong Kong," Ikle stated. She listed the following facts which made her come to this decision
The extreme humidity of 97% and heat of over 30° in a subtropical climate. Taifun season in July - September (In July and August no horse races take place in Hong Kong because of the extreme climate)
Horses will be travelling for five and a half weeks, which include 7 days of quarantaine in Aachen and 10 days post arrival isolation in Hong Kong
Two long flights of more than 11 hours (Amsterdam - Hong Kong non stop)
6 hours time difference
Salieri already experienced problems with the short flight to Athens in 2004
Romario has breathing problems in high temperatures and will not be able to perform at his best
"I don't want to put my horses through this," Ikle explained. "This is a hard decision for me as I know it has consequences for the results of the Swiss dressage team, but in my entire career as dressage rider I have always chosen for the welfare of my horses as highest priority and have put aside my personal desires and ambitions for this (e.g. I withdrew twicefrom competing at the World Cup Finals in Las Vegas).
Ikle has made this decision in agreement with the Swiss dressage chef d'equipe Peter von Grebel.
Photo copyrighted: Astrid Appels
Back to the 2008 Olympic index