Swiss Dressage News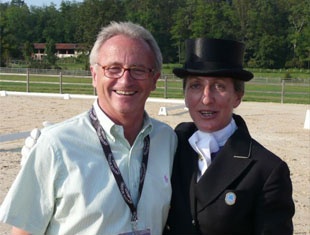 In the wake of the shocking announcement that the Swiss Dressage Team will not be competing at the 2008 Olympic Games, Swiss Dressage Team Coach Jurgen Koschel also announced his resignation today.
The German dressage trainer does not agree with the decisions of the Swiss Equestrian Federation and personally feels forced to resign.
"Because of Silvia Ikle's decision not to participate in the Olympic Games in Hong Kong, nor allow her second horse Romario to compete there under his rider Veronika Marthaler, the state of dressage in Switzerland has taken a dramatic turn," Koschel explained. "The late withdrawal of Mrs Ikle and the decision by the Swiss Equestrian Federation not to replace her with an alternative pair and with the complete withdrawal of the Swiss team as result, are a total surprise to me as team coach and totally incomprehensible."
Koschel believes that Switzerland as small dressage nation with a tiny group of top riders should take great pride in the fact that they were already able to qualify for the Olympics, while other small dressage countries such as Denmark and Spain are still striving for team qualification.
"The flight time as well as the climate in Hong Kong were known as soon as it was announced that the Games were going to be held there and they were accepted by all international riders, who also competed at the Olympics in Seoul, Atlanta or Los Angeles, which were successfully held under the same circumstances," Koschel stated.
Koschel continues his argument that "top teams such as the German and the Dutch team will send their best riders to Asia. The presence of the best dressage athletes in the world is essential because the last few years the discipline of dressage has been under fire as an Olympic discipline. The withdrawal of a rider because of physical strain on his/her horse would be acceptable, when these would have been communicated from the start. The withdrawal of a nation is in my opinion totally against the Olympic spirit. For each athlete, it is great honour and life achievement to participate in this global highlight."
"Because of this reason, I feel urged to resign as Swiss team trainer. I regret this decision, but the situation allows me no other conclusion," Koschel argued.
Jurgen Koschel has been the Swiss team trainer since 2003. Under his supervision, the Swiss team competed at two European Championships, the World Championships and the Olympic Games in Athens.
Photo courtesy: Koschel
Related Links
Swiss Dressage Team Withdraws from Competing at the 2008 Olympics
Silvia Ikle Not to Compete at the 2008 Olympic Games
Jurgen Koschel Remains Swiss Team Trainer
Jurgen Koschel Abruptly Resigned as Dutch Chef d'Equipe
Koschel Limits His Activities as Dutch Dressage Chef d'Equipe