2008 Olympic Games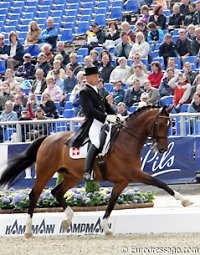 Following Silvia Ikle's statement that she will not be competing at the 2008 Olympic Games, the Swiss Equestrian Federation has announced that none of the Swiss dressage team riders will be showing at the 2008 Olympics.
The Swiss Equestrian Federation announced that because of Ikle's withdrawal, the strength of the Swiss Dressage Team has been reduced considerably. "The fourth place in the nations' cup at the 2007 European Championships and its consequent placing for the Olympic Summer Games was achieved by the exceptional performance of Silvia Ikle and Salieri CH. Her individual third place in the Grand was decisive for the team ranking," the SVPS stated. "The Swiss Dressage Selection Committee has, therefore, decided that no team, nor any individual Swiss rider will be sent for dressage to Hong Kong."
The withdrawal of the Swiss dressage team for the 2008 Olympic Games means that new funds will be available for dressage. The Swiss Equestrian Federation will spend this on the development of the Swiss Elite Dressage Team so that in the future the withdrawal of one team member can be recovered by replacing it with another strong combination.
Photo copyrighted: Astrid Appels/Eurodressage.com