NRPS Breeding News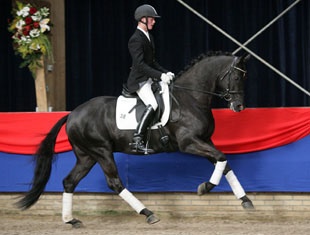 The NRPS (Dutch Riding Horse and Pony Society) has approved fifteen stallions for breeding following the 2007 NRPS Stallion performance test which finished in Ermelo, The Netherlands, on January 4, 2007.
Four stallions were tested just on their behaviour and passed: Blauwendraad's O'Brien (by Peter Pan), Bennfentes xx (by Notórius xx), Nintendo (by Negro) and Genesis (by Gribaldi) which is better known as Painted Black II.
The judging committee for the testing included judges Oortveld, Morsink, and Brusse and they approved the following stallions: Andiamo Especiale (Andiamo x Voltaire), Sambezi (San Remo x Adamo), Don Jovi (pictured - by Don Ruto x Negro), Karolus van Wittenstein (Krack C x TCN Partout), Ferrero (Ferro x Darwin), Wup (Welt Hit II x Wolfgang), Jive (Jazz x Vincent), Querly-Elvis (Querlybet Hero x Heartbreaker), London (Londontimes x Voltaire), Quincy W (Quidam de Revel x Corrado I), Royal Class (Radisson x Concorde) and Uvolinus (Guidam x Amethist).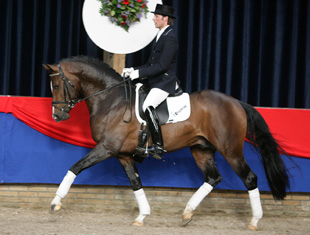 Ponies Djamaï du Bois (by Danny Gold) and Parino B (v. Power Boy) as well as sport horses Guiminko (by Guidam) and Cees (by Casantos) missed the testing and will rematch in a second session on February 20, 2008. Zento (by Quasimodo) will then also be tested but on behaviour only.
Source: De Hoefslag
Photos copyrighted: Sandra Nieuwendijk
Related Links
Ferrero Wins 2006 NRPS Stallion Licensing 
Game Boy Wins 2004 VSN Trophy