KWPN Breeding News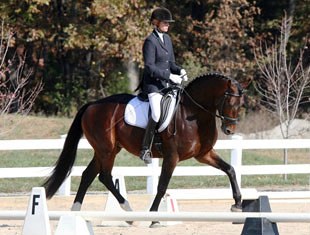 When the final results were tallied and announced at the conclusion of the Sporthorse Stallion Testing, LLC-sponsored 100-Day Stallion Performance Test on November 11, 2007, KWPN stallion Wamberto was announced as champion of the testing
while seven Hanoverians claimed top ten positions among the 16 stallions that completed the rigorous process.
The overall winner with an index of 158.78 points was the Dutch warmblood licensing champion Wamberto (Rousseau/Voltaire), owned by Harmony Sporthorses, Kiowa, CO. Despite a 5-point penalty for his age, Wamberto achieved unprecedented scores and was named the overall Champion.
"Under guest dressage riders Jessica Jo Tate, Fred Weber, and Verena Stock, Wamberto demonstrated very positive rideability, performing counter canter, walk-canter-walk transitions and canter and trot lengthenings. Always happy, it was evident how pliable and pleasant Wamberto is to ride. Under the guest jumping riders Mike Patrik Leichle and Rudy Leone, Wamberto proved his handiness over the tight indoor course, producing clear flying changes and clear rounds over the highest course settings. With scores of 8 for trot, 9 for his canter, and 8.67 for his jumping ability cross country, Wamberto has demonstrated his athletic ability is indeed outstanding," explained Susanne Hassler, who manages Wamberto's stallion services.
Second place went to the four-year-old Worthy Opponent (Waikiki/Hohenstein), owned by Dana Estes of Livermore, CA, with an index of 135.52 points. He was closely followed by the six-year-old Rapture R (Rotspon/Donnerhall), owned by Ken and Roberta Falk of Lexington, VA, in third place with a 133.53.
Rounding out the top ten were: Confetti (4th), a Conteur-Feuerfunke xx offspring owned by Beth Vanderploeg from Augusta, MI, Fielding (5th), a 2004 Fred Astair/Lessing stallion owned and bred by Kate Palmquist, Rockbridge Bath, VA; Fuerst Impression (6th), a 2003 Fuerst Heinrich/Regazonni stallion owned by Angela Barilar, Chestertown, MD; Richmond H.L. (7th), a 2004 Rotspon/Davignon stallion owned and bred by Lucile Mulky, Chapel Hill, NC; Sir Wanabi (9th), a 2002 Santorini/Lortzing stallion owned by Sandra Laprise, Alfred, ONT; and Highlight (10th), a 2004 His Highness/Lauries Crusador xx stallion owned by Oak Hill Ranch, Folsom, LA. Each of these outstanding Hanoverian stallions attained a score well above the necessary 90 points required by the American Hanoverian Society (AHS) for breeding approval.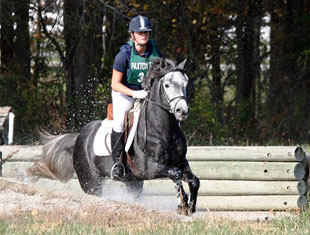 In addition to the 16 stallions taking part in the 100-Day Test, four additional stallions were on hand for the conclusion of the 30-Day Test, held under similar, but abbreviated guidelines. The top finisher in this division with a total index of 164.86 was the Oldenburg/N.A. stallion Rashka (Reymaster/Opus), owned and bred by Ken Borden, Jr., Wilmington, IL. The event's final participant was the Connemara pony stallion Wildwych Eclipse (Glenmoriston FK/Aran Milano), owned by Max and Lisa Gerdes, Brownsvalley, CA, who successfully completed the Test for Pony Stallions with a 71.25%
This year's event, which began on August 3 and concluded with a final three days of testing on November 8-10, was based at the showplace facility Paxton Farm in Batavia, Ohio, located just off the beltline that encircles Cincinnati. A team of highly qualified riders and grooms from Germany ably assisted Training Leader Helmut Schrant during the test?s duration. A crowd of more than 150 spectators assembled to observe the event as the stallions were scored on the final three days by judges Dieter Felgendreher (US), Cord Wassmann (GER), and Gerd Zuther (US), and evaluated by guest riders Mike Patrik Leiche (GER), Rudy Leone (US), Verena Stock (US), Jessica Jo Tate (US) and Fred Weber (US).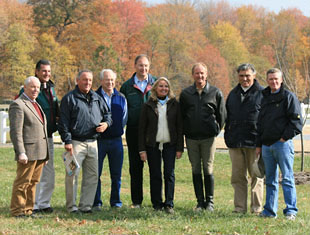 For many warmblood registries, the Stallion Performance Test is generally the second step in the program for the stallion selection and breeding approval after licensing and before the evaluation of the offspring. It consists of a 100 day training period and the final performance test and includes the evaluation of the interior qualities of the stallion, such as character, temperament, ability and willingness to work, as well as the movement, jumping and performance abilities of the stallion. In the final testing, the stallions are judged for their basic gaits, their jumping ability, both free and under saddle, and for their performance while ridden cross country, according to standard rules and regulations.
In North America, the testing is run by Sporthorse Stallion Testing, LLC, which is owned equally by the American Hanoverian Society (AHS) and International Sporthorse Registry/Oldenburg N.A. (ISR) and jointly managed by Ekkehard Brysch from ISR and AHS President, Doug Leatherdale.
Related Links
Photo Report - 2007 U.S. Stallion Performance Testing
Wamberto, Champion of the 2006 KWPN Stallion Licensing 
KWPN Licensing Champion Wamberto Sold to the U.S.A.