2007 Swedish Young Dressage Horse Championships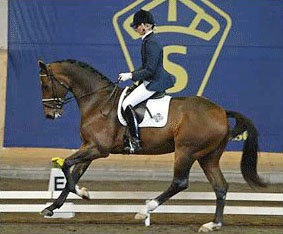 First Wish, Excalibur of Avalon and Hermes became the winners of the 2007 Swedish Young Horse Championships held at the Flyinge State Stud in Flyinge, Sweden, October 19-21, 2007.
The 4-year old championship was spread over two rounds and Swedish Grand Prix champion Jan Brink rode the black stallion First Wish (by Furst Heinrich x Welton) to the national title. The lovely pair scored 87,320 in the final round and won the trophy. The reserve champion is Minna Telde on Wladimir O.A, a Flemmingh x Florestan offspring. This combination scored 85,120. It was remarkable to see that three Don Primero offspring made it into the top 10 of the 4-year old championship.
The 5-year old division was won by the Westfalian geldingExcalibur of Avalon. Ridden by Jennie Larsson, he is owned by Mrs Antonia Axson-Johnsson's Lovsta Stuteri, where Grand Prix rider Tinne Vilhelmson is head trainer and rider. Excalibur of Avalon is by Ehrentanz I x Mon Cheri and won all three rounds of the Championship. In the finals he totalled an overall of 87.467 and was the undisputed winner of the class. The formerly licensed stallion (now gelded) sold last year to Sweden through the Munster Elite Auction for 300,000 euro. The reserve champion was the bay mare Wennica (Longchamp x Warkant). Under Pernilla Andre, she achieved a total of 84.178% and got the reserve title. The long legged mare, who is bred by Stuteri Stubbäng, was the highest placed Swedish bred horse and won the Breeder's Trophy.
In the 6-year old division, it were routiniers Anne Svanberg and the chestnut licensed stallion Hermes that took the champion's title. Svanberg and Hermes (by Rambo x Urbino) scored 87.289 in total and ranked far ahead of reserve champion's Gunilla Bystrom on Quite a Mircle (by Quite Easy x Irco Marco) who totalled 81,133.
Photo courtesy: Roland Thunholm for Tidningen Ridsport
Results
4-year old Dressage Horses
1. Jan Brink - First Wish (Fürst Heinrich - Welton) - 87,320
2. Minna Telde - Wladimir O.A. (Flemmingh - Florestan) - 85,120
3. Caroline Palmgren - Paridon Magi (Don Primero - Napoleon) - 84,840
4. Maria von Essen - Prima (Don Primero - Pascal ) - 83,520
5. Susanne Gielen - Daytona VDL (Don Primero - Belfalas) - 82,360
6. Helena Larson - Wonderboy D ( Samba Hit - Zirkoon) - 82,040
7. Maria von Essen - QLan (Quite Easy - Good Future) - 81,160
8. Pernilla André - Charon (Rubinrot - Chapman ) - 78,320
9. Mattias Jansson - Arioso (Rubinrot - Donnerhall ) - 76,360
10. Adriana Zonari - Don Alfredo (Dormello - Painter's Row xx ) - 74,880
5-year old Dressage Horses
1. Jennie Larsson - Excalibur of Avalon (Ehrentanz I - Mon Cheri) - 87,467
2. Pernilla André - Wennica (Longchamp - Warkant ) - 84,178
3. Ebba von Essen - Yantuge (ertug - Master) - 82,933
4. Mattias Jansson - Maine (Quite Easy - Dammen) - 82,289
5. Minna Telde - La Prii ( Don Primero - Sack) - 81,778
6. Jörgen Andersson - Grazilica (Hertug - Shogun) - 78,667
7. Susanne Gielen - Sandakan (Sandro Hit - Donnerhall) - 78,422
8. Jennifer Svensson- Spider Man (Prestige VDL - Master) - 77,333
9. Maria von Essen - Maldini (Master - Guinness) - 77,222
10. Cecilia Kling Kristoffersen - Mr Amerigo (Don Primero - Amiral) - 74,844
6-year old Dressage Horses
1. Anna Svanberg - Hermes (Rambo - Urbino ) - 87,289
2. Gunilla Byström - Quite a Miracle (Quite Easy - Irco Marco) - 81,133
3. Kerstin Ahlgren - Corleone (Briar - Bernstein) - 78,556
4. Caroline Palmgren - Daisy (De Niro - Pik Bube II ) - 76,467
5. Anki Carlsson - Chaplin (Weltman - Happy Day) - 75,911
6. Hanna Walfridsson - Soraya SD (Don Schufro - Amiral ) - 75,511
7. Jennie Larsson - Lazio (Last Liberty - Cortez) - 75,333
8. Helena Lindmark - Bretagne (Briar - Krevad) - 75,044
9. Anna Nilsson - Umbra (Maistic (ex Maestro) - Nocturne) - 74,600
10. Mattias Jansson - Brisbane (Briar - Amiral )- 74,422
Related Links
Impuls and Hermes Win First Swedish WCYH Selection Trial
Tinne Vilhelmson Captures Second Grand Prix Title at 2004 Swedish Championships