2007 Portuguese Dressage Championships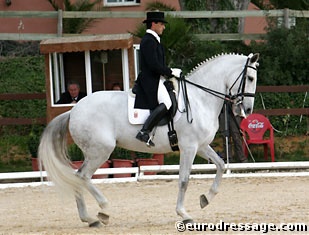 Grand Prix rider Miguel Ralão Duarte became the 2007 senior champion at the 20007 Portuguese Dressage Championships held in Lisbon, on October 12-14, 2007. The championship was organized by the Sociedade Hípica Portuguesa (SHP)
, a club decorated by the Portuguese State and founded 97 years ago. The SHP has throughout its history been committed to equestrianism, namely showjumping and dressage. The Portuguese Dressage Championship Finals took place at the SHP show grounds, located in the Campo Grande district of Lisbon. The club is the preferred location for the best and most important equestrian competitions that take place in our country. The Nationals were attended by a large crowds of spectators as well as Portugal's top riders.
In the Grand Prix division, Portuguese anchor team rider Miguel Ralão Duarte won all three phases of the championship. Aboard his Lusitano mare Oxalis de Meia Lua, he scored an overall of 209.16 points and won the gold medal. Miguel Magalhães and Free Dancer claimed silver on 198.83 points, while the bronze was for team rider Pedro Torres on Riopele (195.54).
Four riders participated in the young riders class and Portuguese team anchor Maria Moura Caetano (pictured) was good for gold. With her former PSI auction horse White Cesar, a 12-year old Hanoverian gelding by Woodstock x Acapulco, she scored solid mid sixty percentage scores and totalled 199.94. João Manuel da Costa Silva and Critos earned the silver with 197.27, while Maria Paes do Amaral and Wonderman achieved bronze (190.48).
Seven juniors battled for the national title and it was Joaquim Pontes on Deustche who earned the gold with 195.90 in total. Rodrigo Galiza mendes and Ne Opus landed in second position with a total of 193.75. Francisco da Costa Silva and Gismo were third with 189.45
Results 2007 Portuguese Dressage Championships
Grand Prix riders
Miguel Ralão Duarte - Oxalis da Meia Lua - 72.40 - 68.18 - 68.58 --- 209.16
Miguel Magalhães - Free Dancer - 69.40 - 64.64 - 64.79 --- 198.83
Pedro Torres - Riopele - 68.65 - 62.56 - 64.33 --- 195.54
Jorge Pereira - Ofi - 66.80 - 61.08 - 62.42 --- 190.30
António do Vale - Owni - 62.35 - 57.76 - 56.33 --- 176.44
André Parada - Landim - 0.00 - 55.16 - 59.21 --- 114.37
Young Riders
Maria Moura Caetano - White Cedar - 68.60 - 66.05 - 65.29 --- 199.94
João Manuel da Costa Silva - Critos - 67.30 - 65.35 - 64.62 --- 197.27
Maria Paes do Amaral - Wonderman - 59.60 - 65.50 - 65.38 --- 190.48
Manuel Veiga - Quinteiro da Broa - 63.75 - 62.40 - 62.76 --- 188.91
Junior Riders
Joaquim Pontes - Deustche - 67.65 - 63.35 - 64.90 --- 195.90
Rodrigo Galiza mendes - Ne Opus - 63.40 - 65.30 - 65.05 --- 193.75
Francisco da Costa Silva - Gismo - 65.85 - 61.85 - 61.75 --- 189.45
Carolina Martins - Magusto - 63.50 - 61.00 - 61.80 --- 186.30
Rita Serpa - Talisman - 62.85 - 60.30 - 60.25 --- 183.40
Sofia Mariz - Prety Woman - 58.80 - 61.05 - 62.35 --- 182.20
Maria Silva - Belzoni - 58.60 - 55.00 - 54.45 --- 168.05
Related Links
Maria Caetano To Represent Portugal at 2006 Young Rider World Cup Finals
FEI Young Horse Classes, Easy Prey for the Portuguese at 2005 Sunshine Tour
Portuguese Team Selected for 2005 European Championships