2007 Global Dressage Forum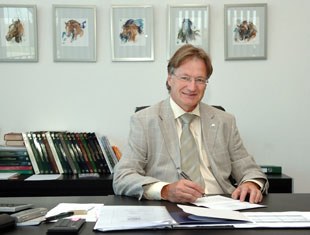 Frank Kemperman, director of the CHIO Aachen and Joep Bartels, ex World Cup director, will speak at the 2007 Global Dressage Forum on the marketing of dressage. On the first day of the Forum
, Monday 29 October, their contribution is planned before the kür presentation and life concert of world-famous pianist Wibi Soerjadi.
Joep Bartels: 'Frank and I have cooperated for a long time, when we were both directors of BCM, some 15-20 years ago. Since then Frank has got a lot of success as the sports director of Aachen and many other events and I am proud to have been part of his press team at that event for many years'.
Bartels: 'During this year's CHIO Frank and I discussed the development of dressage, compared to show jumping and other sports. We both felt that dressage is a sport with an enormous potential, but the development is lagging. Frank spend holidays in Italy, just a few weeks ago during the European Championships in Torino. It was just impossible for him to get any information through the media. No coverage at all was available. Just one Italian dressage rider competed. Most spectators came from Germany, Switzerland and the Netherlands. Dressage is almost non-existing in Italy. Possibly, the FEI has given the championships to this country, for promotional reasons. But is has only been promotion for the few hundred spectators in the stands. It is my opinion that the sport is lacking leadership. At the top there is a committee of judges deciding about strategy. In my opinion the success of the World Cup was the fact that we had a committee with journalists, organisers, riders and officials at the top. The sport badly needs new leadership. FEI dressage has a rather successful development strategy, but its top sport strategy is non existing. Frank and I have made an analysis of recent developments in the sport. We look to the sport from different angles. Frank is approaching developments through his immense experience as sports director of Aachen, World Championships and Olympic Games. I have my experience as President of the Journalists, ex director of the World Cup and partner and father of 2 Olympic riders. We hope to give a positive contribution to a sport we both love', says Bartels.
Global Dressage Forum 2007
On 29-30 October 2007 the Global Dressage Forum will take place for the seventh time. Since 2001 the Global Dressage Forum is the leading debating platform for the international dressage world. Last years edition turned out to be one of the highlights of the dressage year and this year a lot of top trainers, riders, scientists, officials and serious dressage enthusiasts from around the globe will again meet in Hooge Mierde, the Netherlands. For the 2007 edition, the program committee has reserved a lot of time for discussions on actual developments in the sport. A forum of top trainers, riders, judges and journalists will evaluate every clinic. Constructive criticism and open debate will again be encouraged. Top trainers, judges and riders like Kyra Kyrklund, Margit Otto Crepin, world champion in jumping Franke Sloothaak, Monty Roberts, Richard Davison and trainers President David Hunt will join the debate.
There will be a 'full house of horses' at this years forum. During the practical session of Jean Bemelmans, the German trainer of the Spanish team, Andrew Mclean (equine behaviour), and trainer Johann Hinnemann there will be many horses and pony's presented in all different ages and training levels. A special program, including the live concert by famous concert pianist Wibi Soerjadi, will be the highlight on Monday evening 29 October. International and Olympic judge Stephan Clarke will lead the evaluation of the European championships in Turin. The sports director of CHIO Aachen, Frank Kemperman, will be involved in a presentation with Joep Bartels on the marketing of the sport.  
Photo courtesy: GDF
Back to the 2007 GDF Index