2007 European Dressage Championships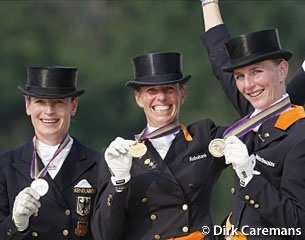 The scenario of the 2007 European Championships seemed to have been based on that of the 2006 World Equestrian Games. Anky van Grunsven won the gold medal by winning the Kur to Music with a score of 85.800%.
Their ride was not entirely faultless with no halt at the end of the test and the typical buck/croup high hindquarters before the tempi changes, but the piaffe and passage was brilliant as well as the very fluent trot tour.
"I'm delighted with my result. Salinero was calm and relaxed in the training sessions as well as during competitions. In La Mandria we had a fantastic show and I'm very happy I came to Italy. The atmosphere was very good for the team too. I really hope we will be in the position to consolidate this result even if I perfectly know it will not be so easy," Anky stated.
Isabell Werth won kur silver by scoring 83,200% for her freestyle aboard Satchmo. "Satchmo was brilliant but I had to take some risks during our performance and in a few circumstances the horse was not perfect. Like in the pirouette or in the extended trot where he lost a bit uneven," Werth explained, adding that "We really have been fighting hard but this time we've lost. Now we know that Dutch riders can beat us. I only hope this will not happen too often."
Imke Schellekens-Bartels and her Hanoverian mare Sunrise claimed bronze again. Her piano infused freestyle earned her a score of 81,750%. "Sunrise just offered me a fantastic performance. He was a little tired but he kept concentration and remained very soft. He really performed at its best," she said.
Text by Astrid Appels/Eurodressage
Photos © Dirk Caremans
Back to the 2007 European Championship Index