2007 European Dressage Championships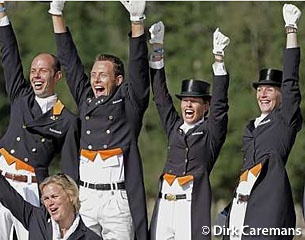 The Dutch dressage team won team gold at the 2007 European Dressage Championships at La Mandria, near Turin, Italy, on August 31, 2007. Isabell Werth claimed individual gold in the Grand Prix Special and Anky van Grunsven won Kur Gold on the last day of competition
, but the talk of the show was without a doubt Holland finally beating Germany, who has held a subscription to the team gold since the European Championships of 1965 (!!).
Anky van Grunsven won the Grand Prix with Salinero with a score of 77.458% and Imke Schellekens-Bartels and Sunrise placed fourth with 74.167%. These two Dutch riders contributed the most to the gold medal for Holland. Isabell Werth finished second with Satchmo on 76.708% but the second highest ranked German was Nadine Capellmann and Elvis in fifth place with 72.417%. Holland defeated Germany with almost a full two percent, landing on first place with a total of 222.083 while Germany totalled 220.792%. Sweden won team bronze with 208.000 in total, the best ride coming from Tinne Vilhelmson on Solos Carex (71.042%). With its third place, Sweden qualified as a team for the 2008 Olympic Games in Hong Kong. Switzerland and Great Britain also obained a berth by finished fourth and fifth in the team ranking. Germany and The Netherlands already qualified for the Olympics at the 2006 World Equestrian Games.
"We arrived here well aware to have a chance to get a great result. We are a fantastic team and this gold medal pays us back for our hard work, which is an essential requirement to get such results. I'm really happy with this European Championship. It was the only medal I was missing by now," Van Grunsven said at the press conference.
Isabell Werth stated that, "I'm sorry we missed the gold medal. We have fought hard against the great Dutch team, which today has been the best. We congratulate them for their result, which is good for our sport. But tomorrow is another day. I have tried to do all my best riding Satchmo, who has been very generous and helpful. We risked a lot but this time it hasn't been enough. Tomorrow we will try to make no mistakes."
Cesare Croce, president of the Italian Equestrian Federation, commented that, "a great team has been beaten by another great team. This is the law of he sport. I'm really happy of this European Championship because it has shown that nothing lasts forever. It seemed quite impossible to beat Germany, but this has happened and this is good for the sport."  
Text by Astrid Appels/Eurodressage
Photos © Dirk Caremans
Back to the 2007 European Championship Index