2007 European Dressage Championships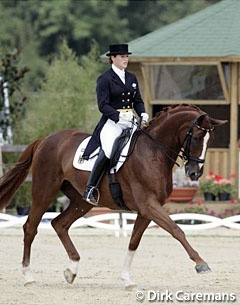 Ellen Schulten-Baumer and the German Dressage Team have taken a provisional lead in the Grand Prix Team Championship competition at the 2007 European Dressage Championships in Turin, Italy. Divided into two groups, Grand Prix takes is spread out over two days
: Thursday August 30 (Group 1) and Friday August 31 (Group 2).
Scoring 71.667% for her ride, Schulten-Baumer and her 13-year old Hanoverian mare Donatha S (by Donnerhall) provisionally rank at the top. Riding for the German team for the first time at such a high calibre competition, Schulten-Baumer fulfilled what was expected of her: achieving a top score which puts Team Germany in first place.
German Chef d'Equipe Holger Schmezer was very pleased with Ellen's performance: "Ellen and Donatha S had a very good round and showed us that she can ride at the same excellent level, which she achieved in Aachen and at the German Championships in Gera, under pressure at an international championship."
Provisionally finishing second was the Dutch newcomer Hans Peter Minderhoud aboard the 12-year old Dutch warmblood mare Exquis Nadine (by Partout/T). The duo scored 70.458% on their European Championship debut.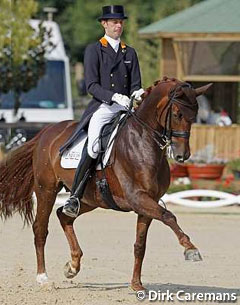 "I've participated at World Championships for Young Dressage Horses in Verden, but this is clearly different. I got lots of experience at those shows, which now come in handy at this championship," Minderhoud explained. He believed that his ride was a bit too safe in the beginning but when he felt everything was going well, he took more risk and ended up placing second.
German Monica Theodorescu placed third aboard Ann Kathrin Linsenhoff's 9-year old Bavarian branded gelding Whipser (by Welt Hit I). The pair received 69.708% from the panel of judges. "Whisper has a few mistakes but showed himself really well for his age and at his first Championship," Theodorescu commented. "Because of our score, the team championship will be a real thriller."
The German team is currently leading with 141.375%, while The Netherlands are in silver medal position with 139.000%. Holland had hoped to be in the lead after day one of the Grand Prix, but could not live up to that expectation as Dutch team rider Laurens van Lieren disappointed with a below par ride.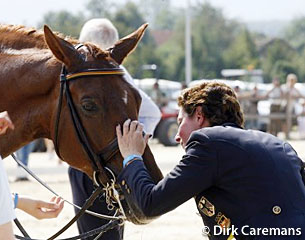 Hexagon's Ollright (by Rubiquil) started out well with a good trot tour which scored him 8s, but the chestnut's weakness is always the walk and in the Grand Prix the horse made a few trot steps in the extended walk. The canter tour had too many mistakes to score higher than 68.524%. Ollright broke into trot in the two-tempi changes and missed a few changes in the one tempi's. Van Lieren lost his concentration and tension crept into the ride. On the centerline Ollright broke into canter in the piaffe-passage tour before the final halt and salute.
"I had to ride more refined. There was a hiccup in the piaffe and I kept correcting it. If I had managed to do that well, I would have got decent scores, while my attempt to correct to mistakes led to insufficiencies. I tried too much and messed up too much," Van Lieren admitted.
Dutch team manager Mariette Sanders-Van Gansewinkel expected more of the Dutch team. "To be honest, the first day did not bring what I had hoped for. We're in second place and secretly I counted on being first. But it has to be said that Hans Peter produced a top performance and Laurens showed great pieces in his ride, which were reduced due to the mistakes."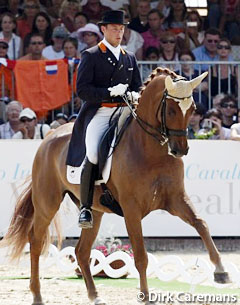 Dutch team trainer Sjef Janssen was very brief in his remarks. "I've seen good rides. Minderhoud was very good and Van Lieren showed the necessary progression," Janssen said. Sjef was not so positive about the score Ellen-Schulten Baumer got. "It is my belief that you can't and shouldn't win with a ride that is built on sand."
The Swedish team is currently in bronze medal position with 134.333% as Louise Nathhorst landed a fifth place aboard Isidor (by Guinness) with 67.750% and Per Sandgaard with Orient on seventh place with 66.583%. Nathhorst and Isidor convinced with good trot work, a lovely piaffe and passage and fine transitions. A mediocre left pirouette pushed their score down though. "He was able to do a large part of the program really well but he's not strong enough yet to go perfect all the way," Nathhorst commented.
The British team is in fourth place now with 132.584% thanks to a nice ride by Anna Ross-Davies on Liebling II. Anna and the 10-year-old Holstein gelding were reserves up until less than two weeks ago and replaced Carl Hester who had to drop out due to an injury to his mount Lecantos. Only competing in their first international grand prix this year, Ross-Davies scored a solid 67.417% and placed sixth. British chef d'equipe David Trott said, "They did a lovely clear round and we are delighted for Anna."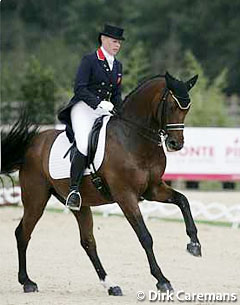 Fiona Bigwood and the 14-year-old Swedish warmblood gelding by Gaugin De Lully, Mr G De Lully, are currently lying in 11th place on 65.16%, which is an unexpectedly low score for them. Trott explained: "The horse flies here are enormous and all the horses are smothered in fly repellent. We don't know whether that is what caused Mr G to sneeze throughout his test or not. He had no mistakes, but was tense and kept snorting."
The second group of Grand Prix rides rides on Friday August 31 and the three highest scores from each country will decide the team medals. The top 30 go forward to the Grand Prix Special (GPS) on Saturday and all four team members may compete in the Special. Individual medals will be awarded for this class. The riders placed in the top 15 of the Special will start in the Gand Prix Kur to Music on Sunday. Only three riders from any one nation may compete in the kür. Individual medals will also be awarded for the winners of this class.
Photos © Dirk Caremans
Source courtesy: KNHS - British Dressage - Pferd Aktuell - Ridsport
Back to the 2007 European Championship Index