2007 European Dressage Championships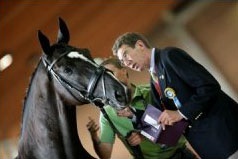 This afternoon the first "phase" of the 2007 European Dressage Championships -- the vet check -- took place at La Mandria in Turin, Italy. The Veterinary Commission with Italian Alessandro Centinaio as president, Belgian Jean-Elie Hennau as FEI Foreign Vet Delegate and Luigi Fusetti
as a member checked 56 horses altogether.
There was lots of commotion during the jog as several horses appeared stiff, irregular and lame at the trot up. Held in the indoor school at La Mandria, all the top horses, which are hopefuls for the medals, passed the jog. However, there was lots of commotion in the audience when the committee accepted of Silvia Ikle's Salieri CH, which looked extremely tender in his movements.
Four horses were referred to the holding box and are up for reinspection tomorrow: Francoise Hologne-Joux' Born (BEL), Hubert Perring's Diabolo St Maurice (FRA), Anna Merveldt's Coryolano (IRL) and Olga Klimko's Highlight (UKR). One horse did not pass, Yuriy Kovshov's Areal (UKR).
"According to the vets' point of view, the inspected horses were all in very good condition," officials at La Mandria stated today. "This is a fact that witnesses the growing attention granted not only to technical matter but also to the horses, their stabling and transportation."
Luxembourg individual rider Joelle Kinnen had to withdraw a few days before travelling to Italy for the European Championships. Her farrier misplaced one nail during a shoeing job of Kinnen's Grand Prix horse Petit Prince (by Prince Thatch xx) and the horse became uneven. "Petit Prince is recovering well and will be back in work at the end of this week. I´m really very sad, because we have been training the last weeks with our national trainer Christoph von Daehne and the horse was doing so well," Kinnen told Eurodressage.
The competition starts tomorrow with the Grand Prix test which counts for the Team Championship. The first group of riders will go tomorrow, the second group on Friday. The 30 highest placed riders qualify for the Grand Prix Special on Saturday and 15 will go to the Kur to Music Individual Finals on Sunday.
Photo copyrighted: La Mandria
Back to the 2007 European Championship Index