2007 European Dressage Championships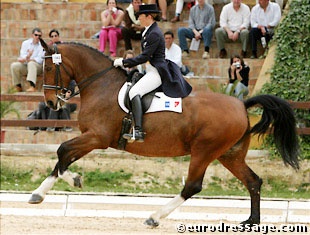 The French Equestrian Federation announced the team of riders that will represent France at the 2007 European Dressage Championships in Turin, Italy, August 29 - September 2, 2007. Based on competition results produced during the 2007 show season and the current health of the horses
, chef d'equipe Alain Francqueville and the French Dressage Committee seletected the following riders on the team:
Julia Chevanne - Calimucho
Hubert Perring - Diabolo St Maurice
Costance Menard - Lianca
Odile Van Doorn - Parodie van de Wateringhoeve
Big absentee is French anchor rider Karen Tebar with her Hanoverian mare Falada M (by Forrest xx). The chestnut mare was diagnosed with a benign abcess in the hoof which was surgically removed in July. Falada's recovery is going well and the mare is back in full training, but the 2007 European Championships at the end of August are, however, too early for the combination to be able to produce peak performances. Tebar has decided to withdraw from team nomination.
Photo copyrighted: Astrid Appels
Back to the 2007 European Championship Index