2007 European Dressage Championships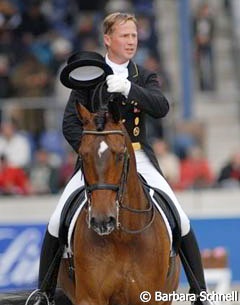 The Swiss Equestrian Federation announced the team of riders that will represent Switzerland at the 2007 European Dressage Championships in Turin, Italy, August 29 - September 2, 2007.
Following the 2007 Swiss Dressage Championships in Grabs, Switzerland, the Swiss Dressage Committee and chef d'equipe Peter von Grebel were able to select the following riders:
Silvia Iklé, - Salier CHI
Veronika Marthaler - Romario
Christian Pläge - Regent
Marie Line Wettstein - Le Primeur
The Swiss dressage team will aim to qualify for the 2008 Olympic Games in Hong Kong. The top five ranking nations at the European Championships are able to procure team qualification for the Games. The Netherlands and Germany have already qualified and a further three nations can obtain a berth for Hong Kong.
Photo copyrighted: Barbara Schnell
Back to the 2007 European Championship Index